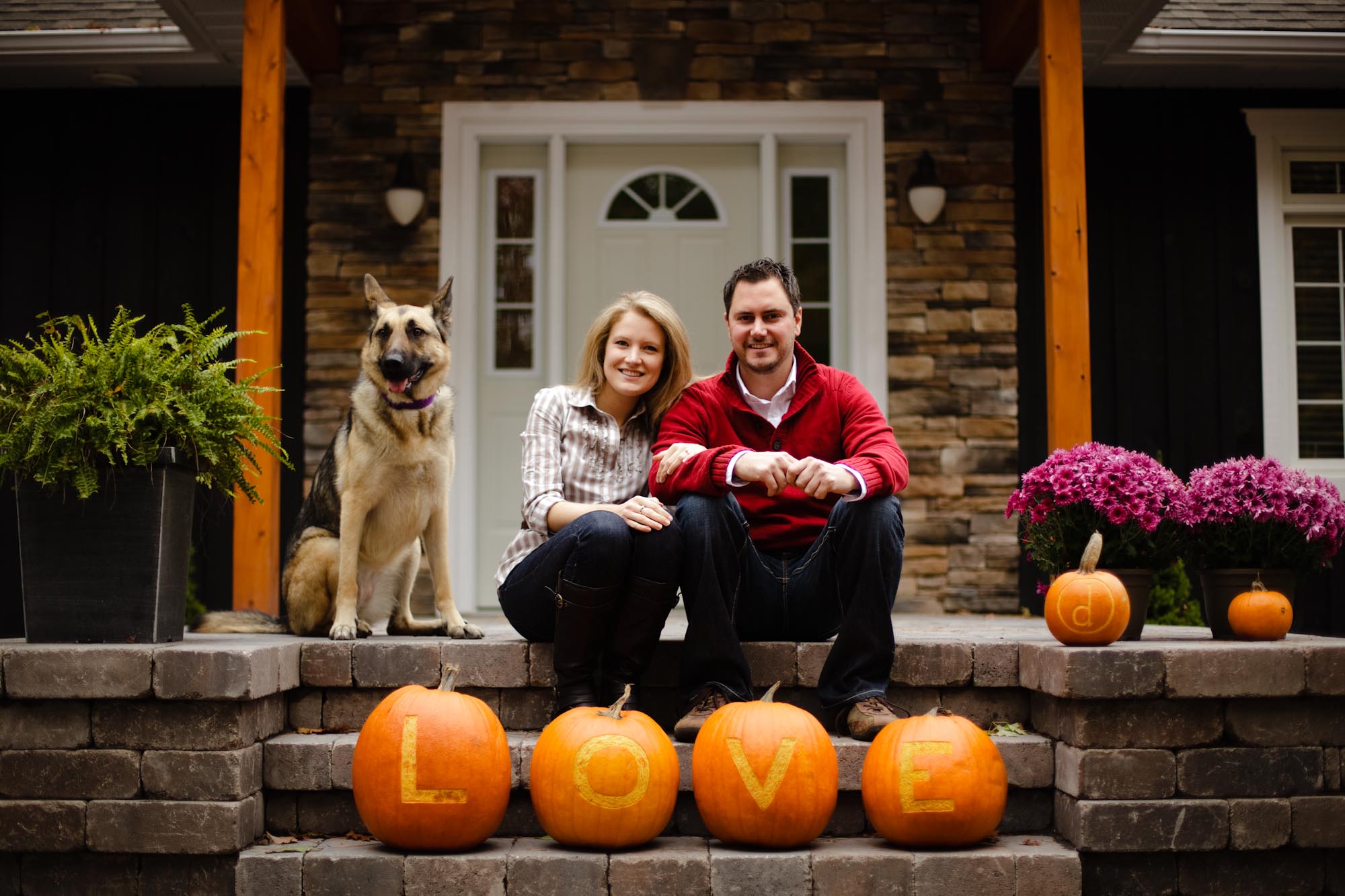 One of the best things to witness is an awesome bridesmaid becoming a bride-to-be! Lacey may look a little familiar to some of you, because she just happened to be a featured bridesmaid at two of our favourite weddings this year! You may recall, Jenn + Darren, who were married this past February, and Shelley + Ian who exchanged vows in July! When Lacey phoned us and shared the exciting news of her and Evan's engagement, we were ecstatic! She mentioned that they were planning to marry in August, and we informed her that we only had one remaining date left available in August. We waited on the other line, eagerly anticipating her response, and hoping that we still had her date open… and we did!!!
After we got off the phone, we immediately made plans to schedule their engagement session. We were on a mad race with time, as we wanted to take photos in autumn before all the leaves fell to the ground. For their engagement we met at their beautiful home, just outside of Barrie. Driving up to their place, it appeared as if they purchased an empty lot between two older homes, and built a completely brand new home. However, upon talking with Lacey + Evan, I learned that the house was actually over 30 years old, but they are incredible renovators. In fact, Evan stripped down the home and rebuilt it to look as good as new. It is quite impressive! Watch out Extreme Makeover: Home Edition, Lacey + Evan will put you to shame.
After getting some great shots of them near their home with their adorable dog, we took a quick drive into the country, then headed down to the MacLaren Art Centre where their wedding will take place in August 2012.
Congratulations Lacey + Evan on your engagement! We are so happy for you, and are completely thrilled that we get to capture your wedding next year!