Renée + Randall | Wedding Cinema at Sunset Point Beach in Collingwood, Ontario
Renée + Randall are married! These two. Honestly, Renée + Randall are two of the loveliest people. They've had quite an eventful year leading up to the wedding, to say the least. On top of all the time and effort that goes into planning a wedding, they were forced to evacuate their home last year in Fort MacMurray, Alberta because of the horrific forest fires that threatened the entire city. We can't even imagine what they've been through, but we are so glad they are safe and sound. Theirs was a beautiful wedding day, filled with countless stories of how they met, to their first date baking cookies, to now. It was such an honor to spend the day with them and their adorable family. This is their love story.
Melanie started the day with Renée and the ladies at her family home in Collingwood, while Paul joined up with the guys at a large property just down the hill from Craigleith Ski Club. The two read personalized cards from the other and got dressed–Randall in his dapper light gray vest and pants, and Renée in her glitteringly gorgeous gown. They met under the shade of a tree in the front yard of the family house for a first look and intimate reading of their vows. Not a dry eye was in the area.
The two took a moment to freshen up before heading to the ceremony location– sunset Point Beach in Collingwood, only a short walk from the house. The beach was filled with passers-by and onlookers; however, it felt like the only activity on the beach was the wedding. Time stood still as the two reiterated their vows among their family and friends, with the waves crashing on the rocks of Georgian Bay in the background. It was epic!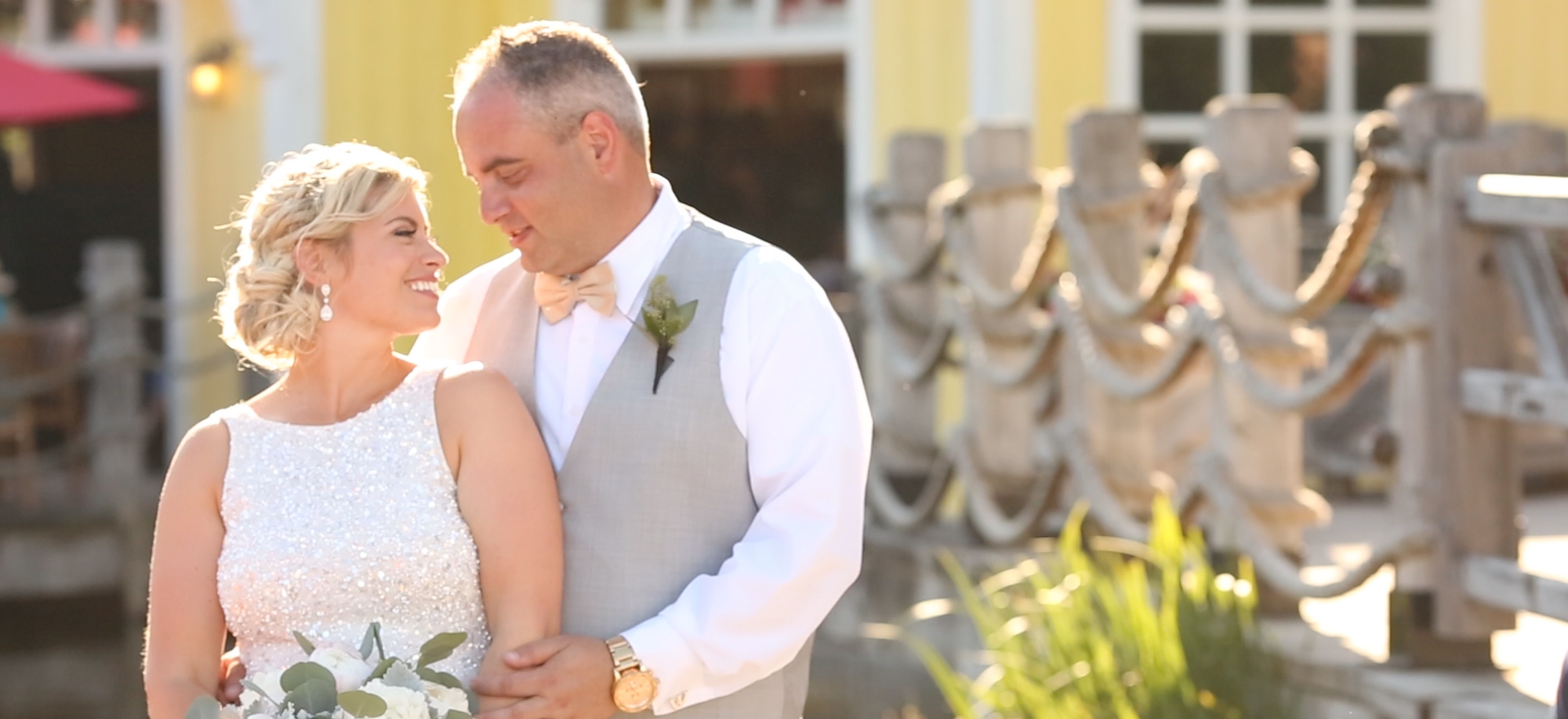 After the ceremony, Renée + Randall walked back to the house to enjoy cocktail hour with their guests. A little mingling, then it was time to board the party bus. We rode around downtown Collingwood and Blue Mountain with the bridal party, stopping at a few choice locations along the way. The reception was held at Craigleith Ski Club in Collingwood. The bridal party was introduced and the couple was surprise serenaded by the crowd. Dinner and speeches commenced, then everyone stepped outside to the patio for the first dance. Fireworks lit up the night sky as the two danced the night away.
THANK YOU
Thank you so much, Renée + Randall, for inviting us to capture your celebration. We wish you both all the very best!
THE TEAM
Cinema: Darlington Studios
Photography: Rowell Photography
Venue: Craigleith Ski Club
Event Coordinator: Amanda Jerome, Itz Your Day
Hair: Be Simply Stunning + Brandy Ferris
Make-Up: Jessica Haisinger
Florist: Art in Bloem
Cake: The Cocoa Cakery
Dress: Theia
DJ: DJ Mastermix
Suit: Moore's
Soundtrack: "Forever Starts Today (Instrumental)" by Tim Halperin, licensed through The Music Bed