Ashley + Scott | Wedding Cinema in Toronto, ON
Ashley + Scott are such an adorable couple.  We first met them while filming the wedding of Ashley's bestie, Christina, last June at The Rosseau A JW Marriott Resort in Muskoka, ON.  Over the past six months, we've been so fortunate to get to know this couple even better.  In fact, Ashley just happens to be Melanie's remarkable yoga instructor at Moksha Yoga Barrie.  Small world!
"Muskoka meets Toronto."  This was the predominant theme for this Barrie couple's wedding, according to their wedding planner, Crystal Adair-Benning of Distinct Occasions.  This creative endeavour was accomplished through tables lined with birch trees, a soft floral palette, balls of yarn, and decorative wooden frames and table numbers, among other adorable details.  This wedding combined the cozy feel of a cottage wedding with the distinction of an urban atmosphere.  All taking place at Steam Whistle Brewing deep in the heart of Toronto.
Melanie met up with Ashley at her sister's home, a gorgeous glass sanctuary nestled in Etobicoke.  Ashley set the tone for the day by practicing yoga. After a round of sun salutations, Ashley and the ladies sipped on mimosas while getting their hair and make-up done.   The sound of laughter filled the house, as they shared hilarious stories and snacked on fancy cheese.  Then, it was time for the ladies to don their elegant, deep blue J.Crew bridesmaid dresses.  Ashley put on her stunning, flowy wedding gown and slipped into her blue shoes.  She took a quiet moment to read a card from her husband-to-be, as a soft smile graced her face.
Paul met up with Scott and the boys at Scott's father's home nearby. When Paul arrived, the guys were already suited up and ready to go. Then, began the waiting game as Scott, and his groomsmen, paced the hardwood floors, trying to relax, until the designated hour when it was time to head over for the first look. Scott read a portion of a beautifully hand-written card from his wife-to-be. Then, the guys munched on a "pregame" meal of Cap'n Crunch and lasagna. Finally, it was time to see Ashley.
The gentlemen arrived. The air was electric with excitement, as they eagerly awaited their first look. Ashley descended the marble steps to meet Scott, who nervously waited by the window.  They embraced.  Then, it was time for the creative session with their talented photographer, Krista Fox.  We all wrapped up tight in our cold weather gear and headed out into the winter scene.  After some tender moments with the newlyweds-to-be, their bridal party joined them for outdoor shots in the snowy forest.  It was like a winter wonderland!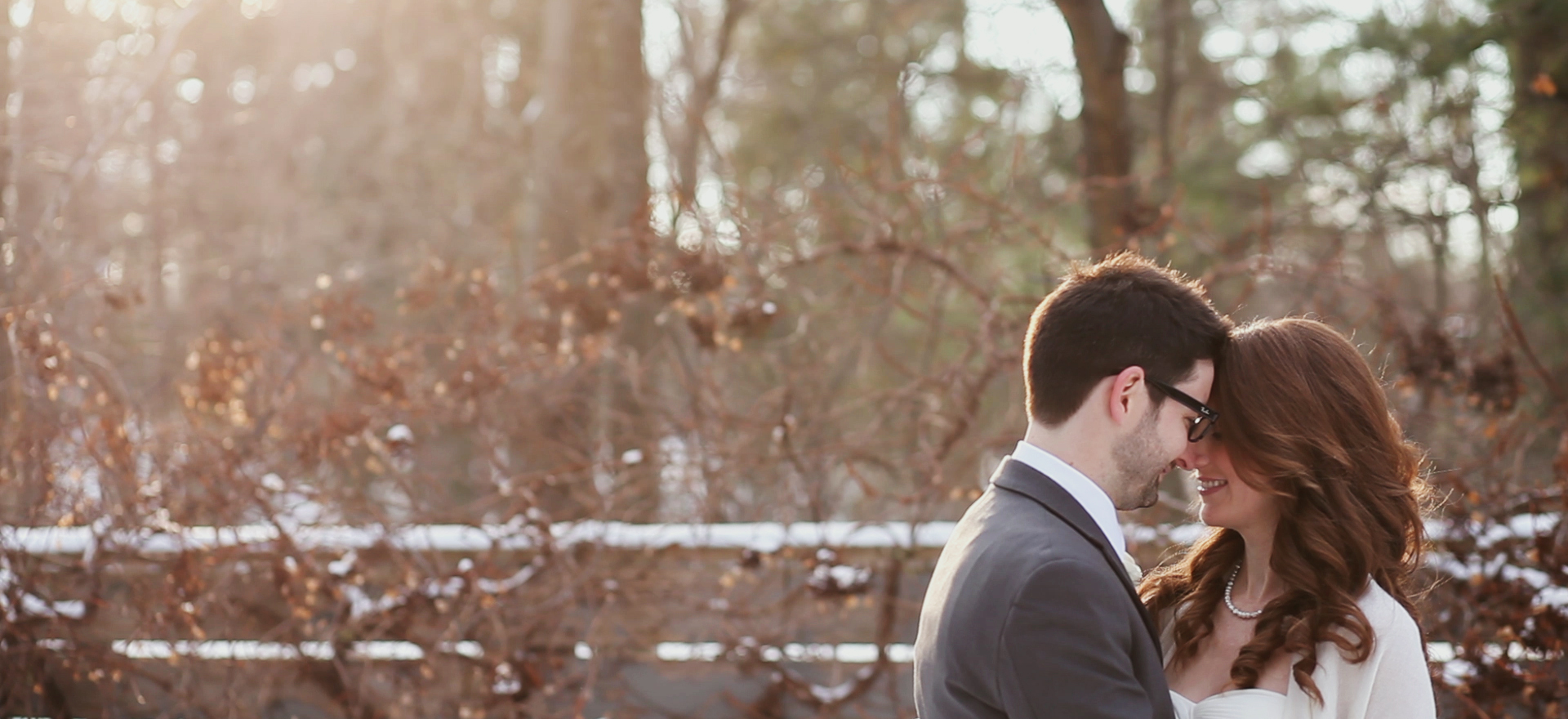 The sun started to set, so it was time to make our way to Steam Whistle Brewing for the ceremony and reception.  The candlelit room filled with wooden chairs and lanterns was a lovely sight to behold.  Ashley + Scott were pronounced husband and wife among their family and friends.  Everyone celebrated the union!  
Immediately after the recessional, the staff quickly transformed the room into a reception, while the guests enjoyed cocktails in the adjacent hall.  People were encouraged to sign their names and offer a piece of marital advice on a slip of paper for the couple, then place it into a frame.  Once Ashley + Scott reentered the room, the party began.  Sweet, heart-felt words were spoken by their loved ones during a delicious dinner of comfort foods (chicken pot pie, grilled cheese and tomato soup, etc.).  Once dessert was served, the couple cut their cake and hit the dance floor to share their first dance as husband and wife.  Parent dances followed shortly thereafter, and DJ Hugh set the party off with a series of fun jams.
It was a great day!  Thank you Ashley + Scott for allowing us to capture such a beautiful moment in your lives.  We are truly delighted to know you both and wish you all the very best life had to offer.  As Ashley would say, you two are "amazeballs!"
THE TEAM
Cinematography: Darlington Studios
Photography: Krista Fox
Venue: Steam Whistle Brewing
Wedding Planner: Distinct Occasions
Decor + Florist: Stemz
Wedding Cake: Sweets From The Earth
Hair Stylist: Jenna Gerald from Valentino's
Make-Up: What a Face
Gown: Sarah Houston Couture
Suit: Moores
DJ: Hugh Elstone
Music: "Finding Home" by Mindy Gledhill, licensed by Triple Scoop Music
Wedding Date: January 18 2014