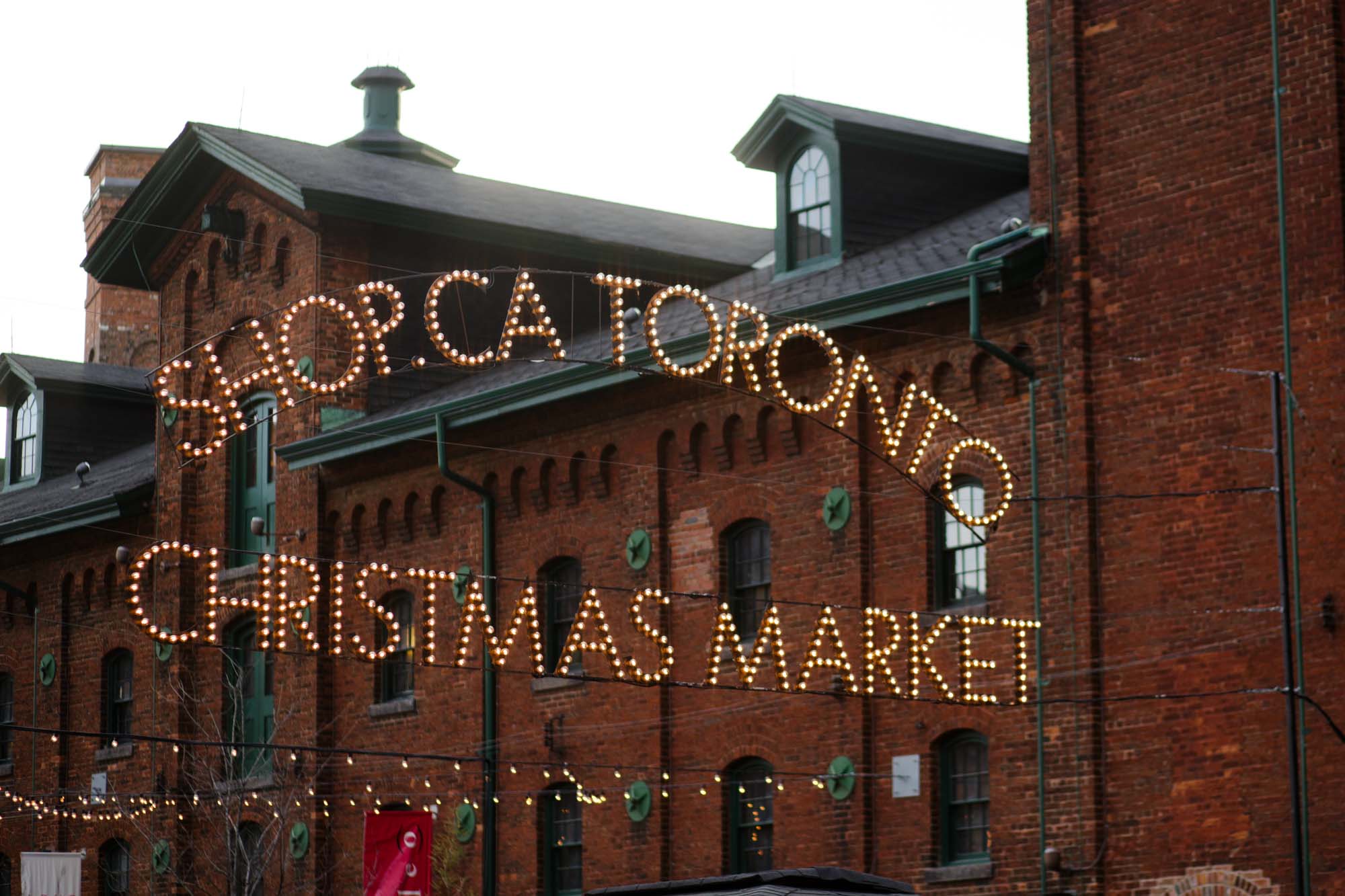 Neither of us can remember how we found out about the Toronto Christmas Market, a wondrous winter festival that takes over the Distillery District once a year. However, we are so glad we chose to add this festive event to our holiday roster.  It was a delightfully fun family adventure!
We arrived, and were immediately awe-struck by the massive, ornately-dressed white spruce Christmas tree.  As we strolled through the brick-lined streets and alleyways, the delicious scent of poutine, gourmet grilled cheese and smoked turkey legs filled the air. The sweet sound of Christmas carolers could be heard, as we headed over to the free Kinder Egg Photo Booth and posed for some fun family photos.
Once our photo slide printed, an enormous Kinder Egg rolled out of the dispenser.  Talk about a Kinder Surprise!  Our son, Noah, clapped his hands in delight at his new treasure!
We walked over to Balzac's to get some yummy holiday refreshments. After ordering our hot chocolates, we were told by the barista that our drinks were on the house thanks to the team at Yellow House Events.  What?!?  Well, these incredible ladies were seated nearby in elf hats, treating all the patrons of Balzac's to the cafe drink of their choice.
It was a part of their brilliant #12DaysxK campaign to spread holiday cheer. A simple act of kindness goes a long way. You never know how one selfless gesture will effect those around you. One small act can lead to another, and before you know it everyone becomes focused on caring and doing for others. We were amazed by their kindness and encouraged Noah to thank them for his delicious, specialty hot chocolate.  The "elves" from Yellow House Events provided him with an adorable child-size elf hat.
Time for a go on the Ferris wheel!  Yes, that's right, this Christmas Market has rides.  Noah and I took a whirlwind trip on the Ferris wheel with a gorgeous view of the CN Tower and Toronto skyline.  So. Much. Fun
We met up with our friends – Nikki, Lenard and their adorable son, Mason. Nikki Andal is a photographer who lives near the city, so she captured a great family photo for us in front of the Christmas tree. Then, we made our way over to visit Santa. He chatted with the two young boys about cookies and milk, then paused for portraits with the boys.  Noah was so hopped up on hot chocolate, free candy canes and holiday merriment, that he could hardly handle all the excitement!
As the sun started to set, gorgeous warm white lights sparkled in the night, creating a cozy atmosphere. We found the booth selling smoked turkey legs and sat down to enjoy our meaty treat.  A few wet wipes later, we finished our meal and said our goodbyes. Snowflakes gently fell from the sky, as we walked back to our car.  A holiday performance by Santa's elves and a Christmas angel was in full swing on the main stage.  It was like a Christmas dream!
If you are in search of a great place to celebrate the holiday season, we highly recommend visiting this market!  You will not be disappointed.  Merry Christmas! Love, the Darlingtons!