Jen + Mat | Wedding Photography Fusion in Mississauga, ON
It was a rain-soaked, Saturday morning in mid-September, the day Jen + Mat became husband and wife. Water poured from the sky; however, no amount of precipitation could dampen the spirits of this happy couple. They were the picture of calm and quiet exuberance as they readied for their big day.
Vivian Greene once said that, "Life is not so much about waiting for the storms to pass, as it is about learning to dance in the rain." Jen, Mat and their entire wedding party did just that! They danced and laughed the day away, as raindrops fell. They all thoroughly enjoyed each moment of this special day.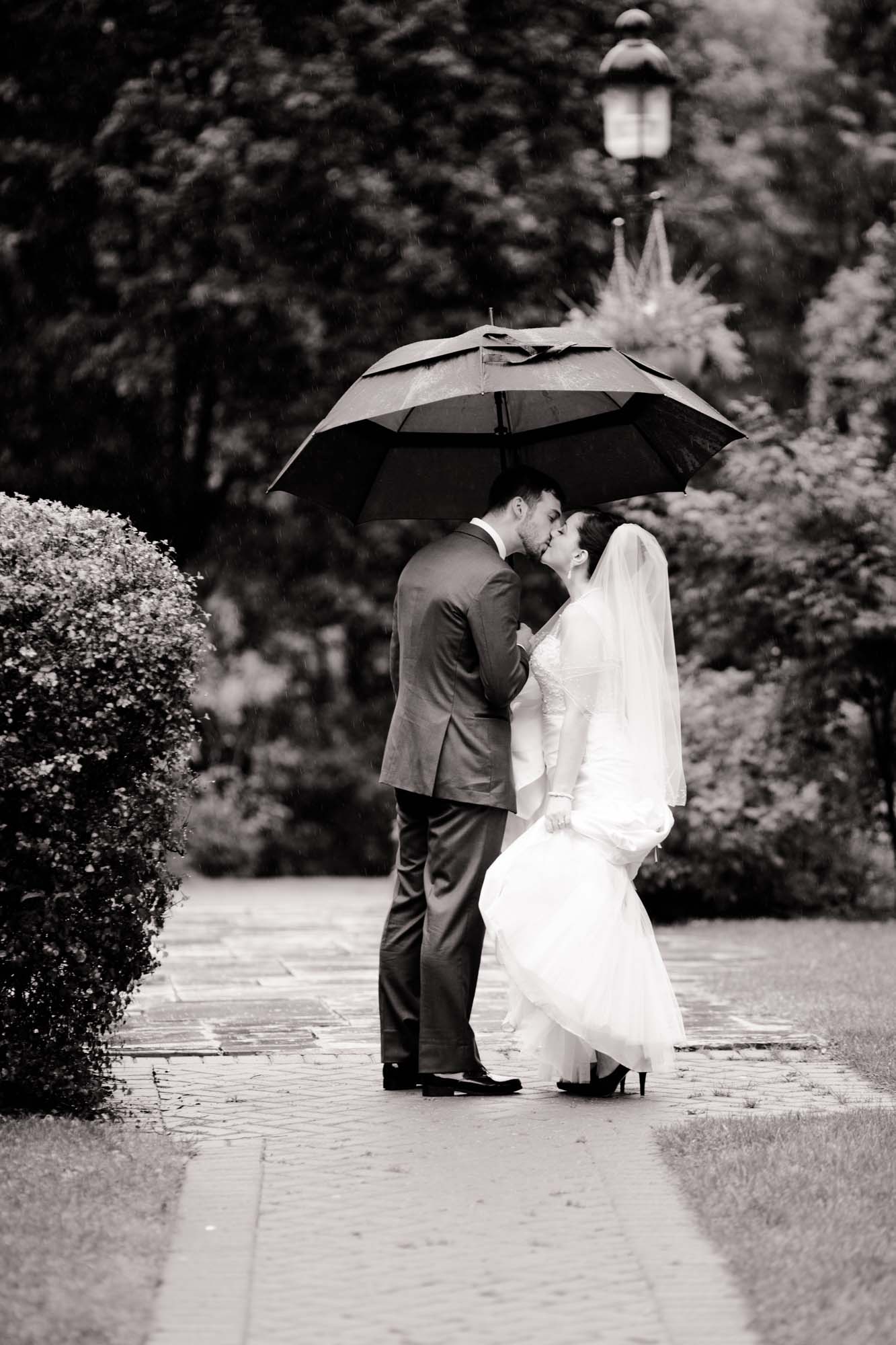 We only previously chatted with Jen + Mat through emails and Skype, so could hardly wait to see them in person! Jen is a video game developer and Mat is a bona fide rockstar drummer. How could one not be excited about a face-to-face meeting with this fabulous duo?
We met Mat at the Marriott Residence Inn in Mississauga, ON. He was in the suite with his groomsmen, waiting for his mother (the certified boutineer specialist of the day) to pin the floral arrangement onto his jacket. He silently read the card he received from Jen, and poured fluid into his brand new monogrammed, Zippo lighter (a gift from his bride). Then, Mat welcomed his father and grandparents into the room. After a rousing toast with the boys, we headed out the door to meet Jen and the ladies at her parent's home.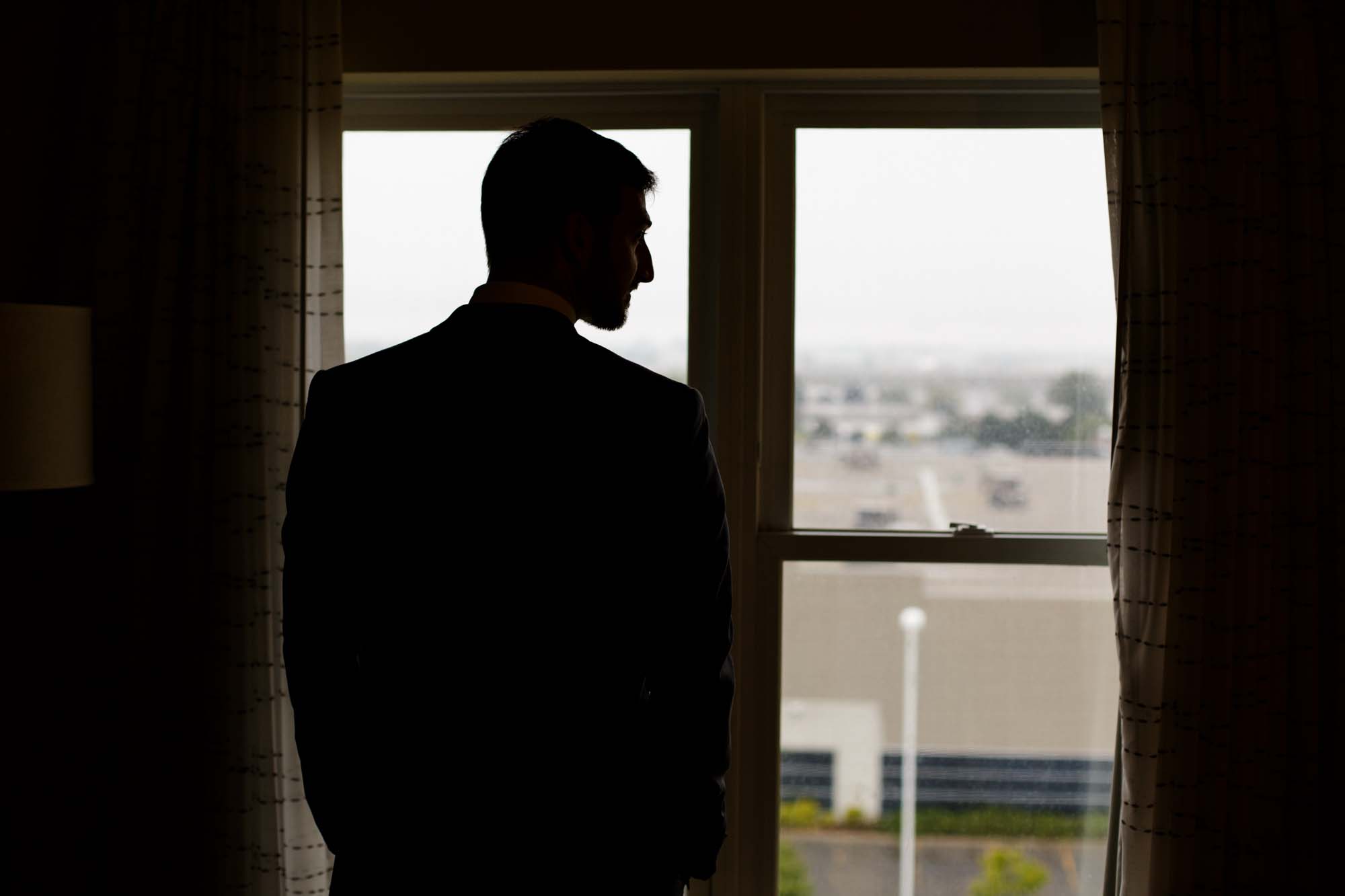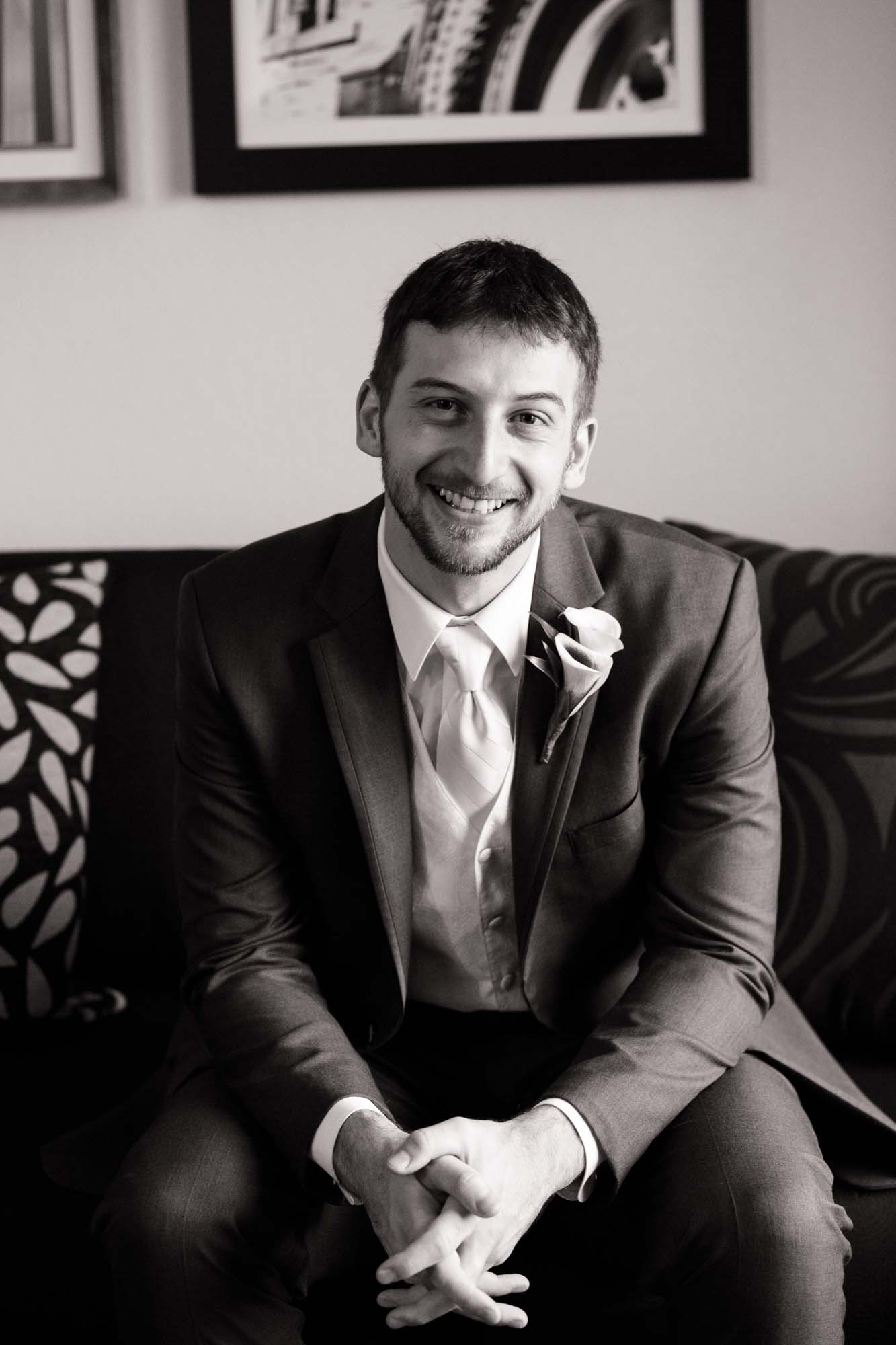 We walked in to find her gorgeous dress placed in the window next to her parent's framed wedding photo. Jen told us about the flowers that Mat had sent over (as a special delivery surprise), only a few moments earlier, while she was in the make-up chair. After reminiscing about the happy tears she cried because of the thoughtful gift, she hurried upstairs to put on her gown with the help of her mother and maid of honour. Jen looked radiant as she descended the stairs to meet her father for a hug before heading to the church.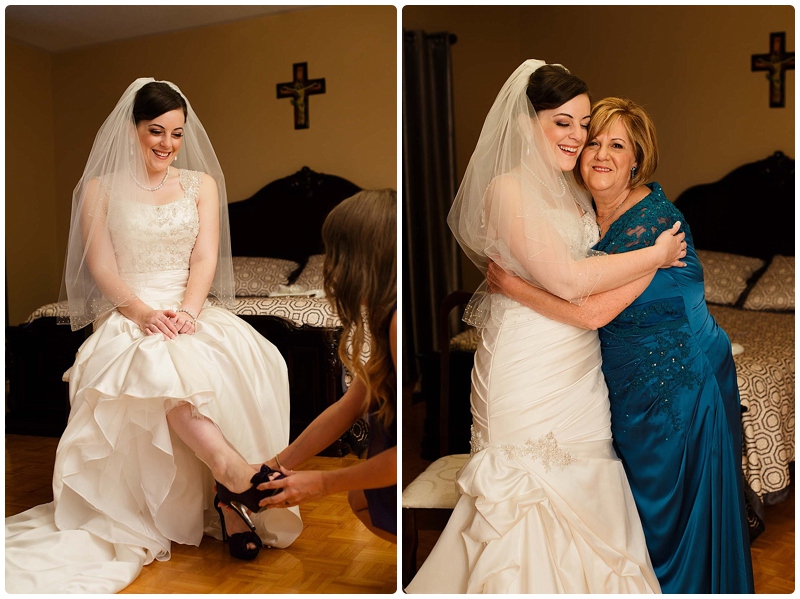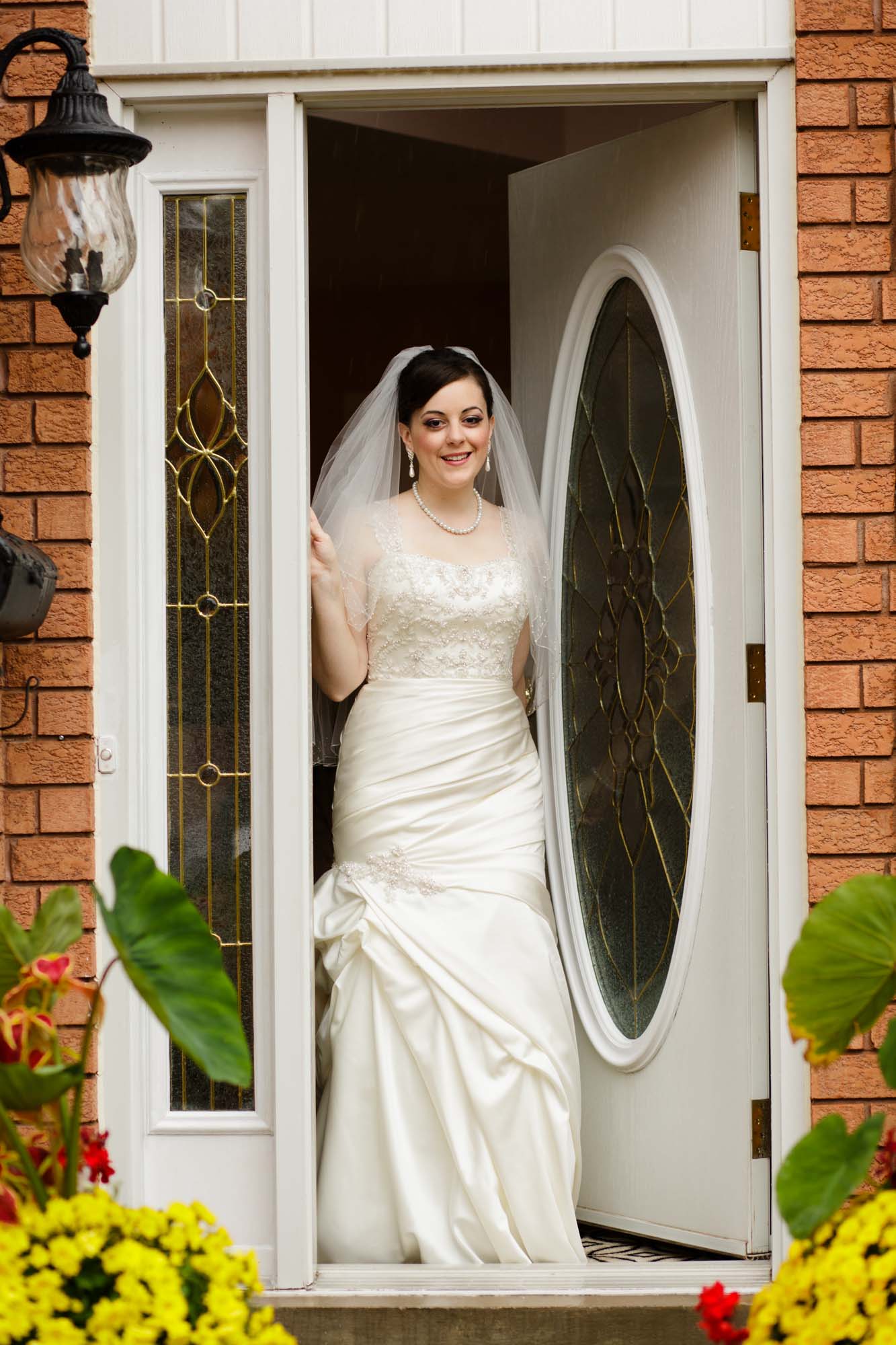 We arrived at Erindale United Church in Mississauga, ON for the ceremony. Mat, and his best man, sat in the back room, eagerly anticipating the main event. While, Jen and her bridesmaids, partied in the front room, with dancing and high-fives all around. It was time for the ceremony! Jen and her father walked down the aisle. The love in the room was palpable. Mat could hardly contain the emotions welling inside, as he professed his devotion to his beautiful bride. Every word that Jen + Mat uttered, spoke of an enduring love that would last a lifetime. Jen could hardly contain her excitement, as she bounced up and down and excitedly said her "I Do"s before the whole assembly. Such an adorable couple!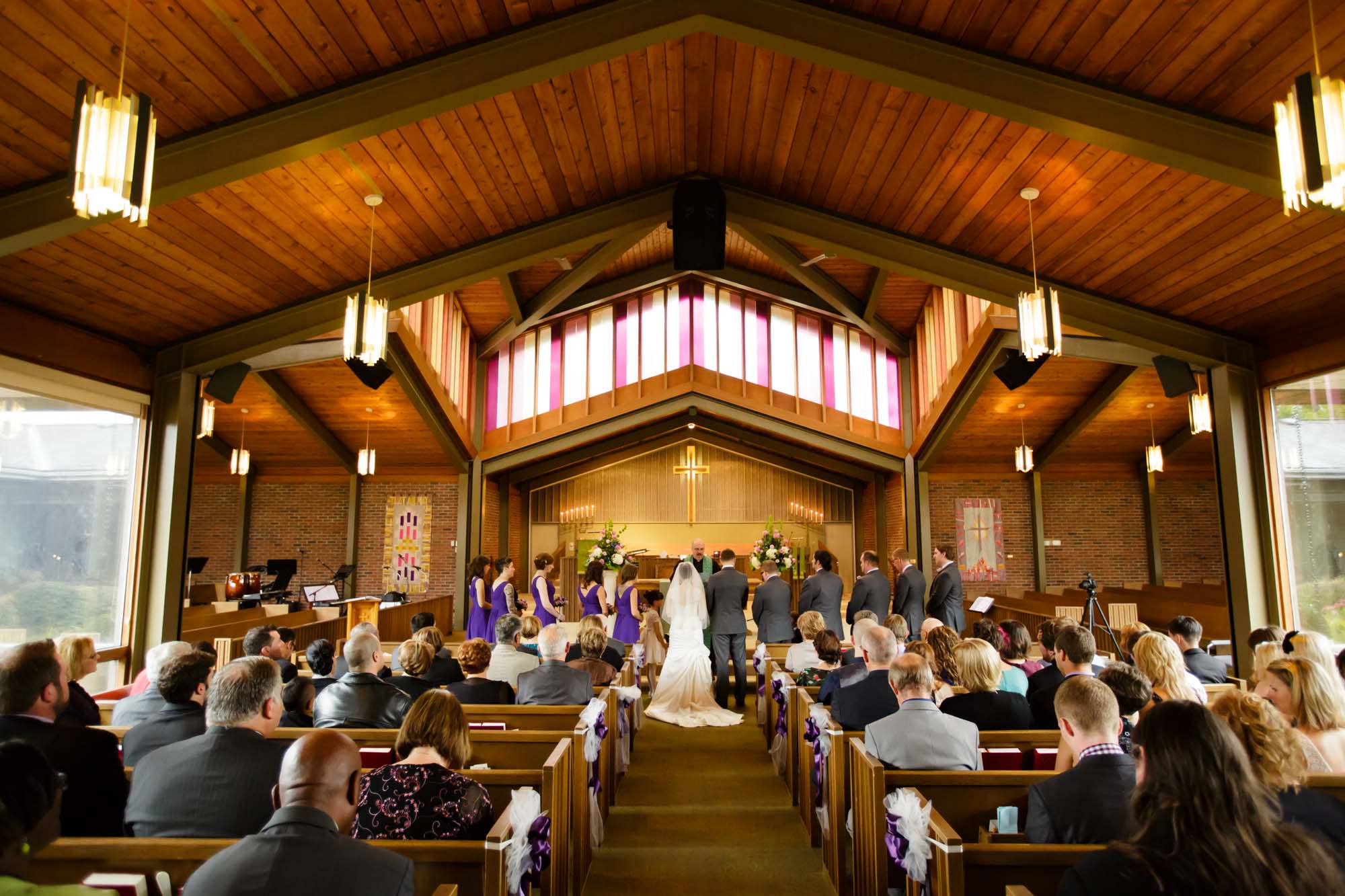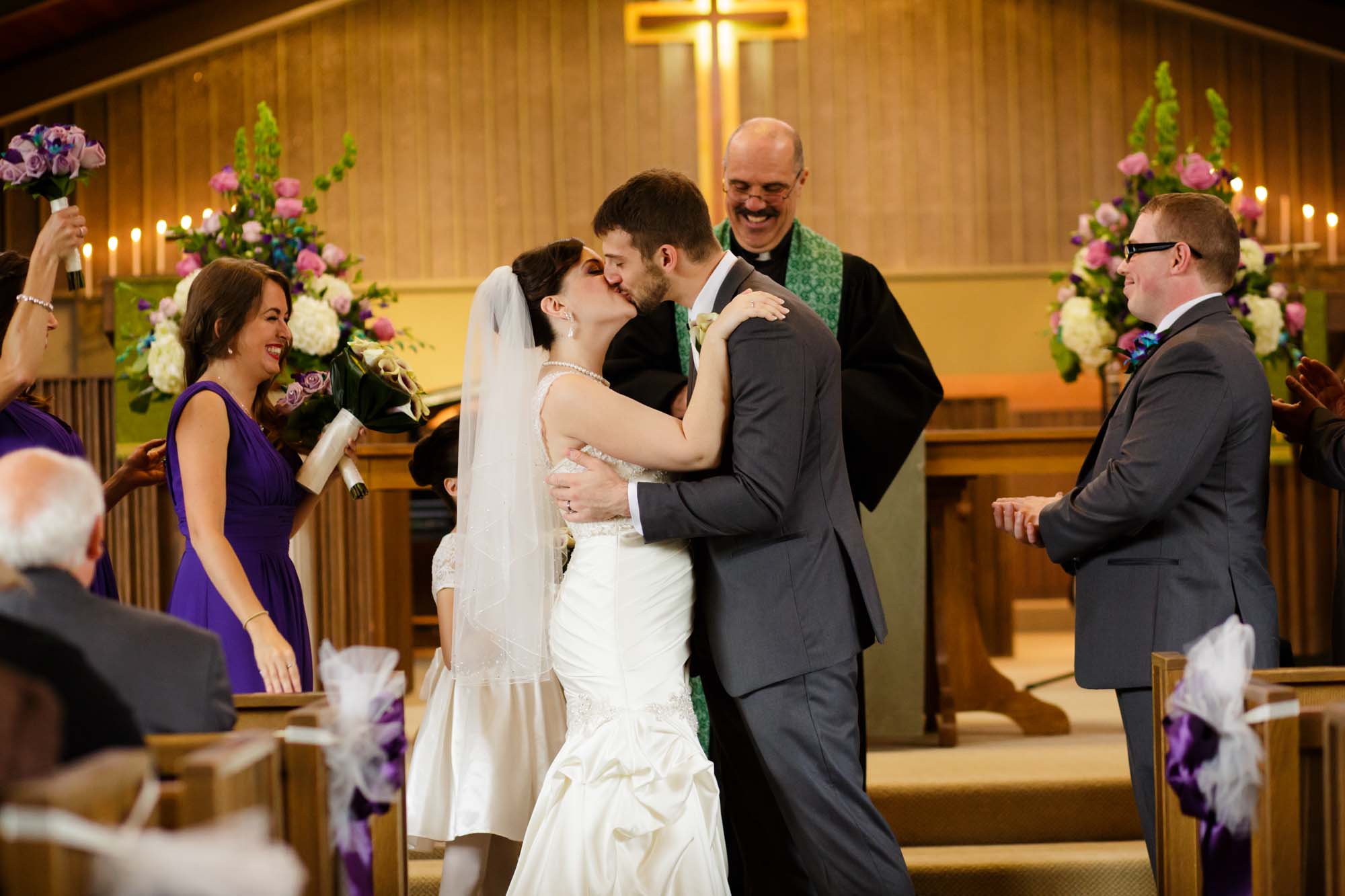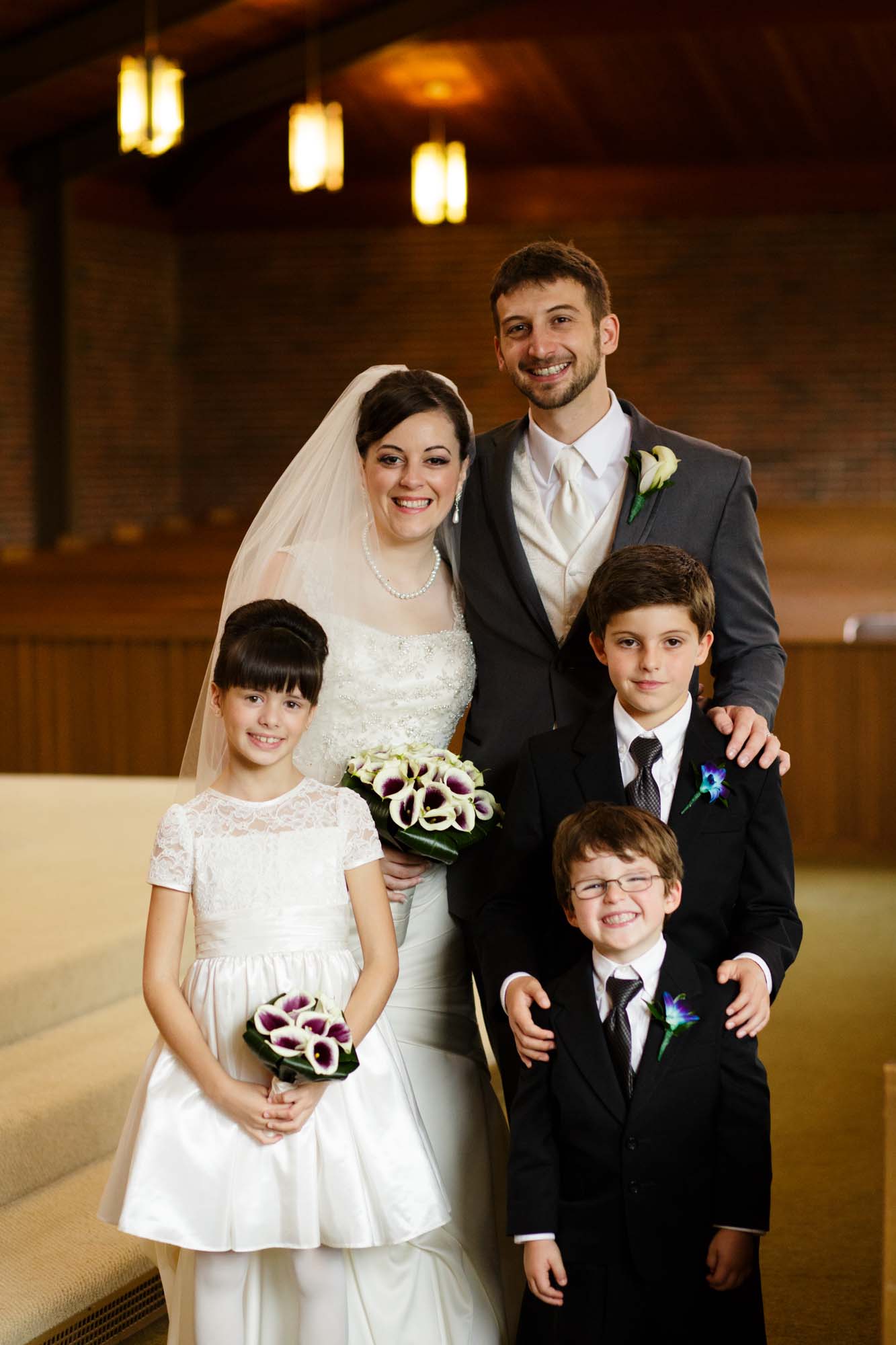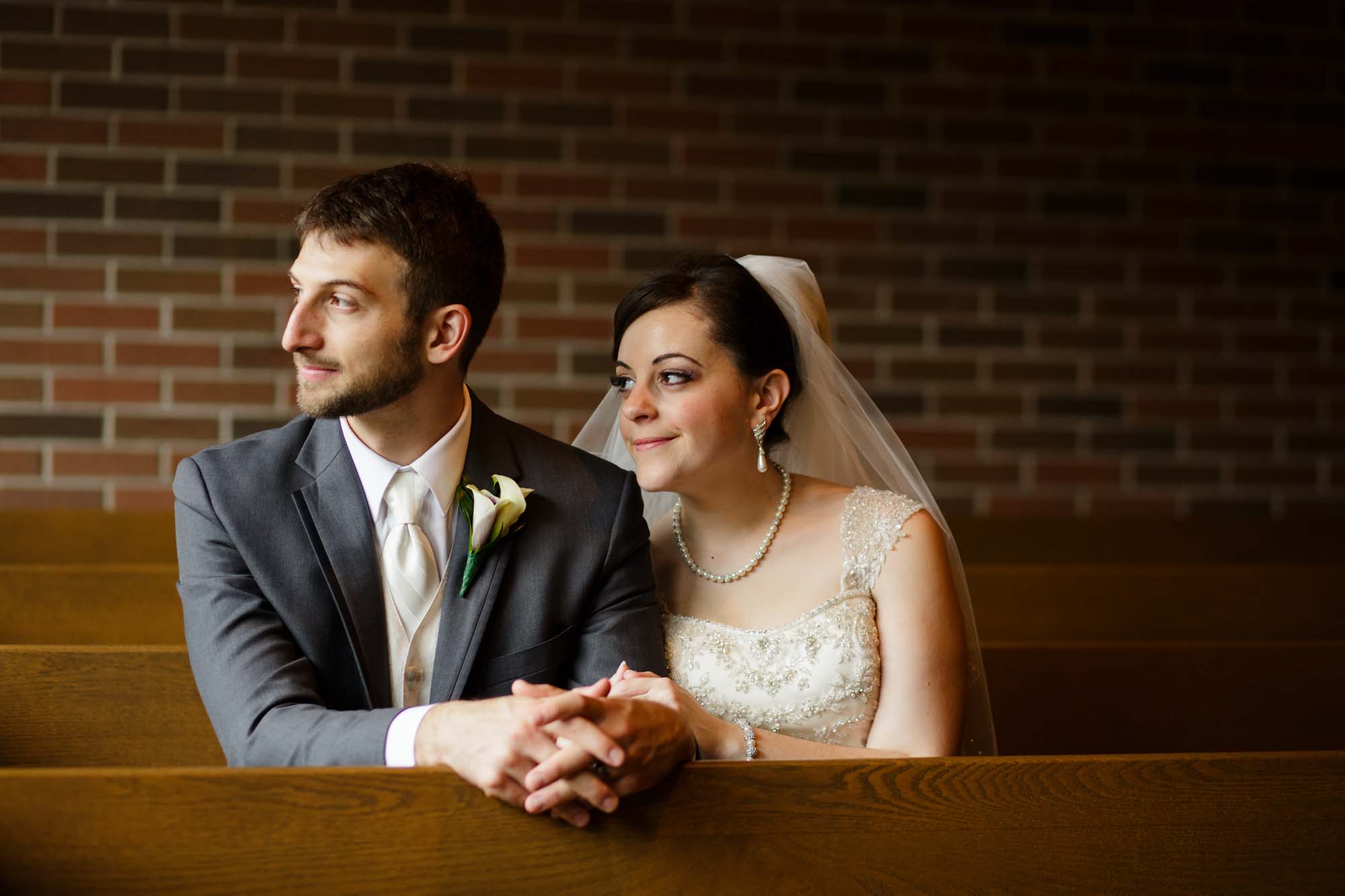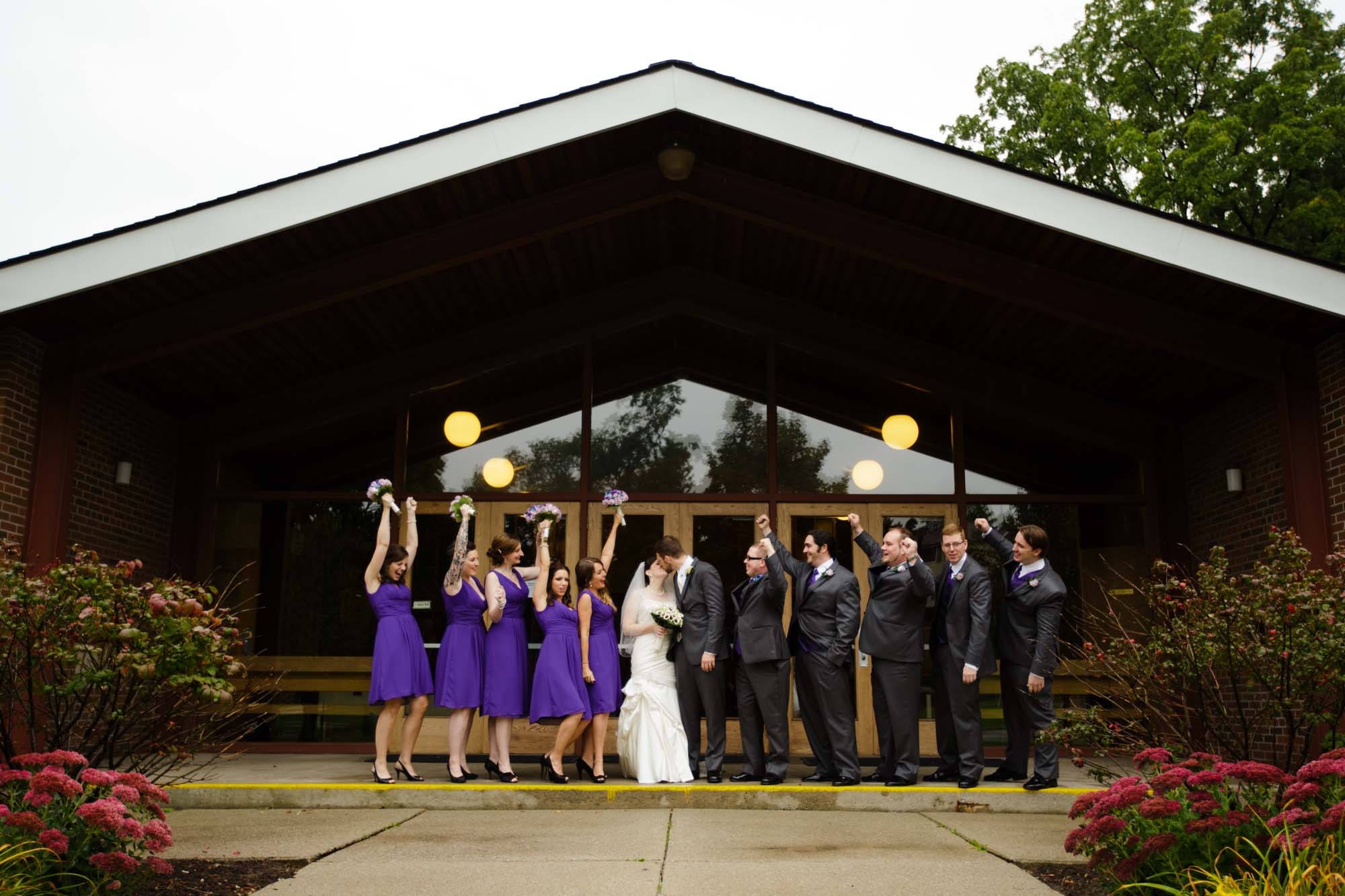 We started our creative session with a few family photos in the church, before venturing off to Adamson Estates in Mississauga, ON for portraits of the bridal party and couple. The persistent rain didn't stop the creative session, as we found a wonderful covered building for photos of the amusing group. We walked around the property, and by the water, with Jen + Mat for a few portraits with the couple. The bridal party danced around, sang songs and even tried to photo bomb a tender moment between Jen + Mat. Everyone had a fun time!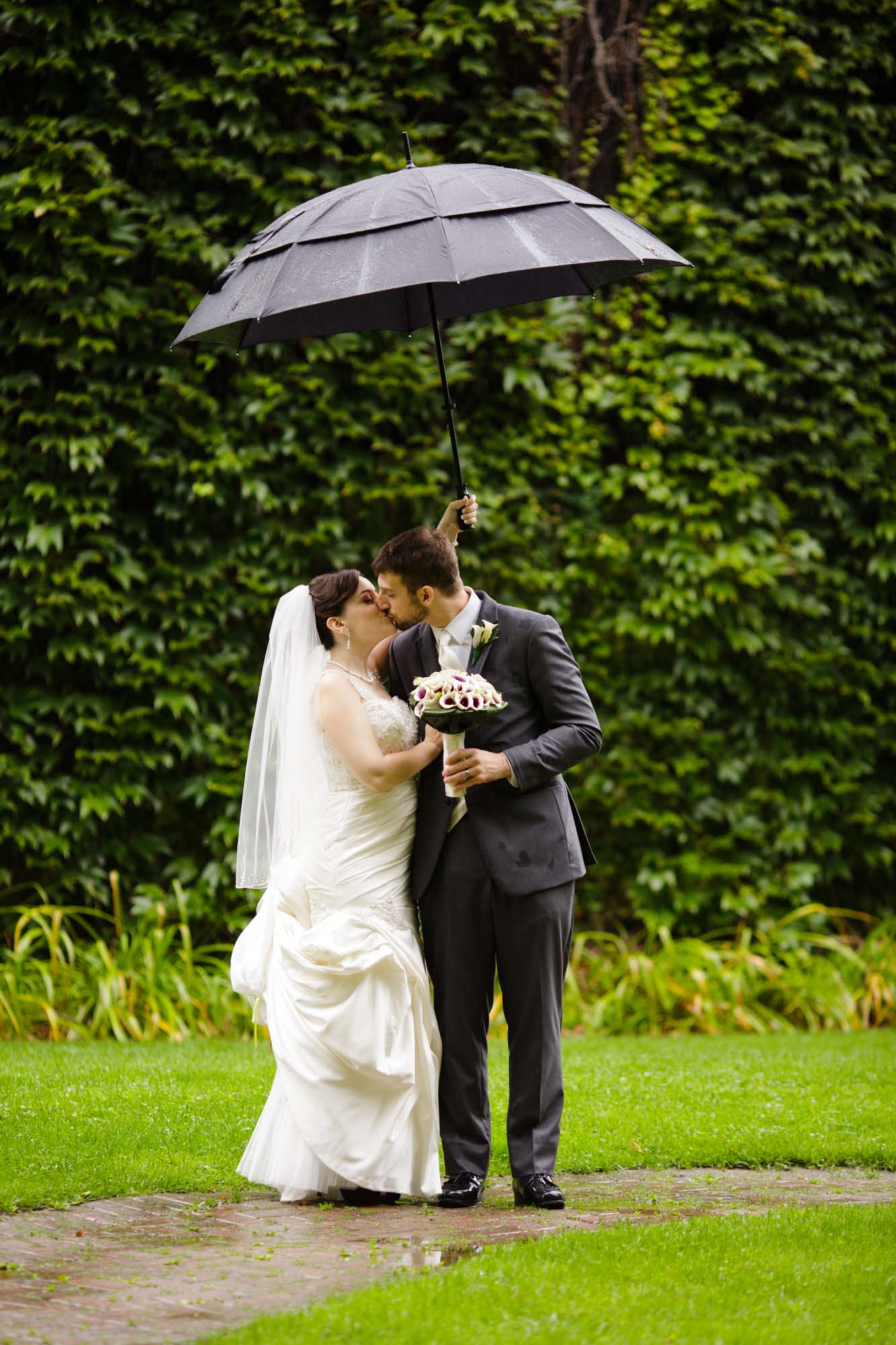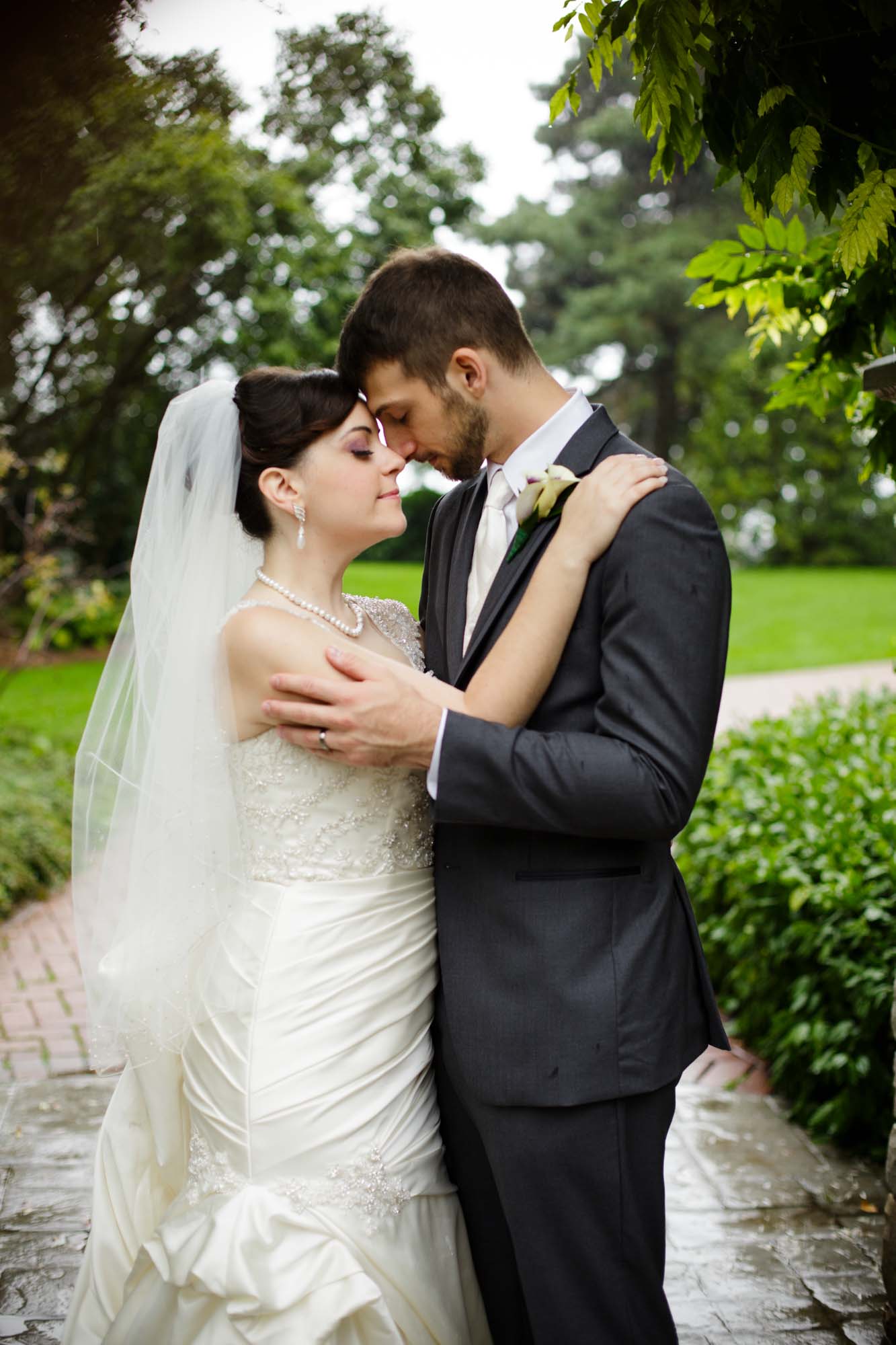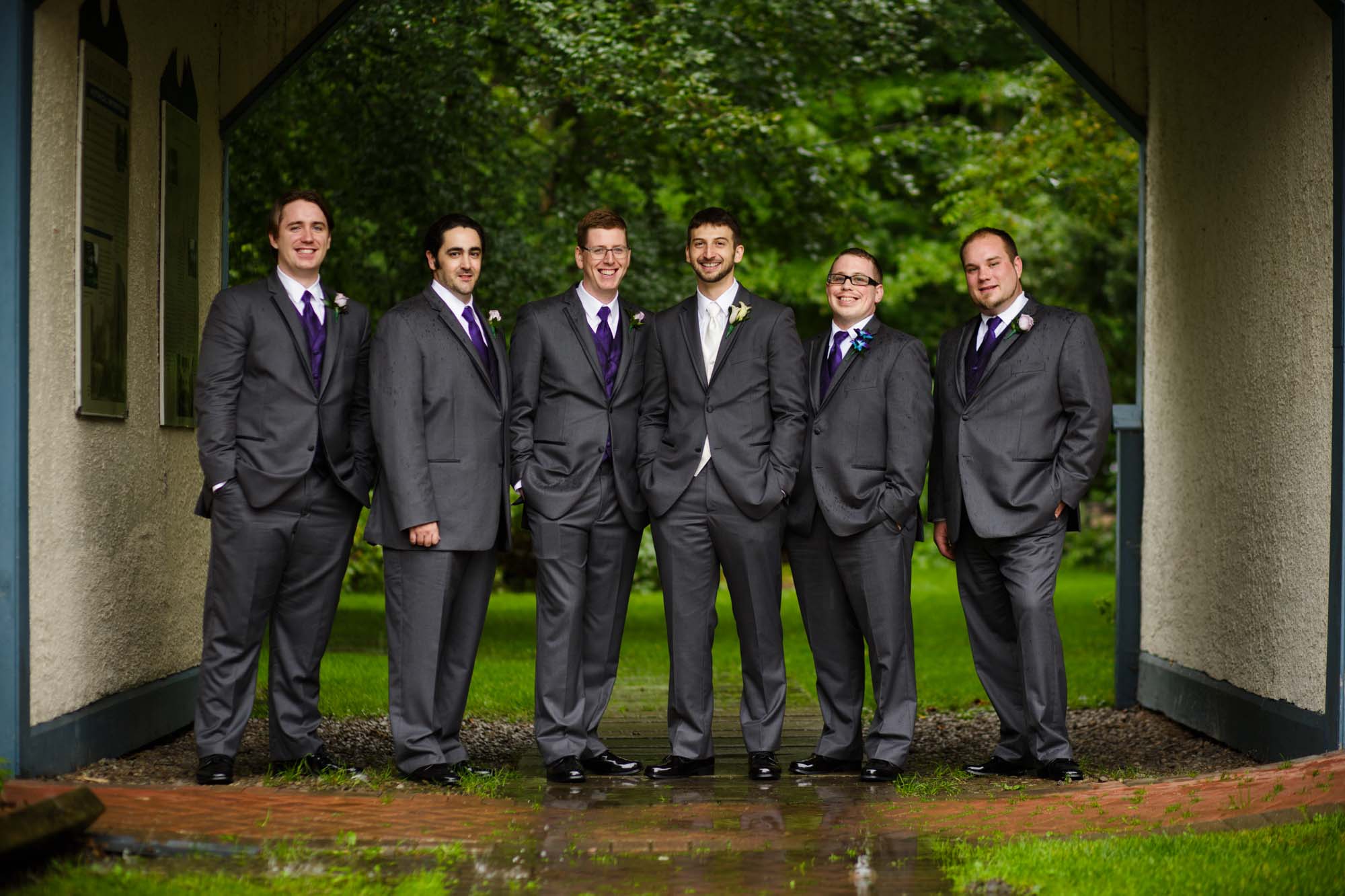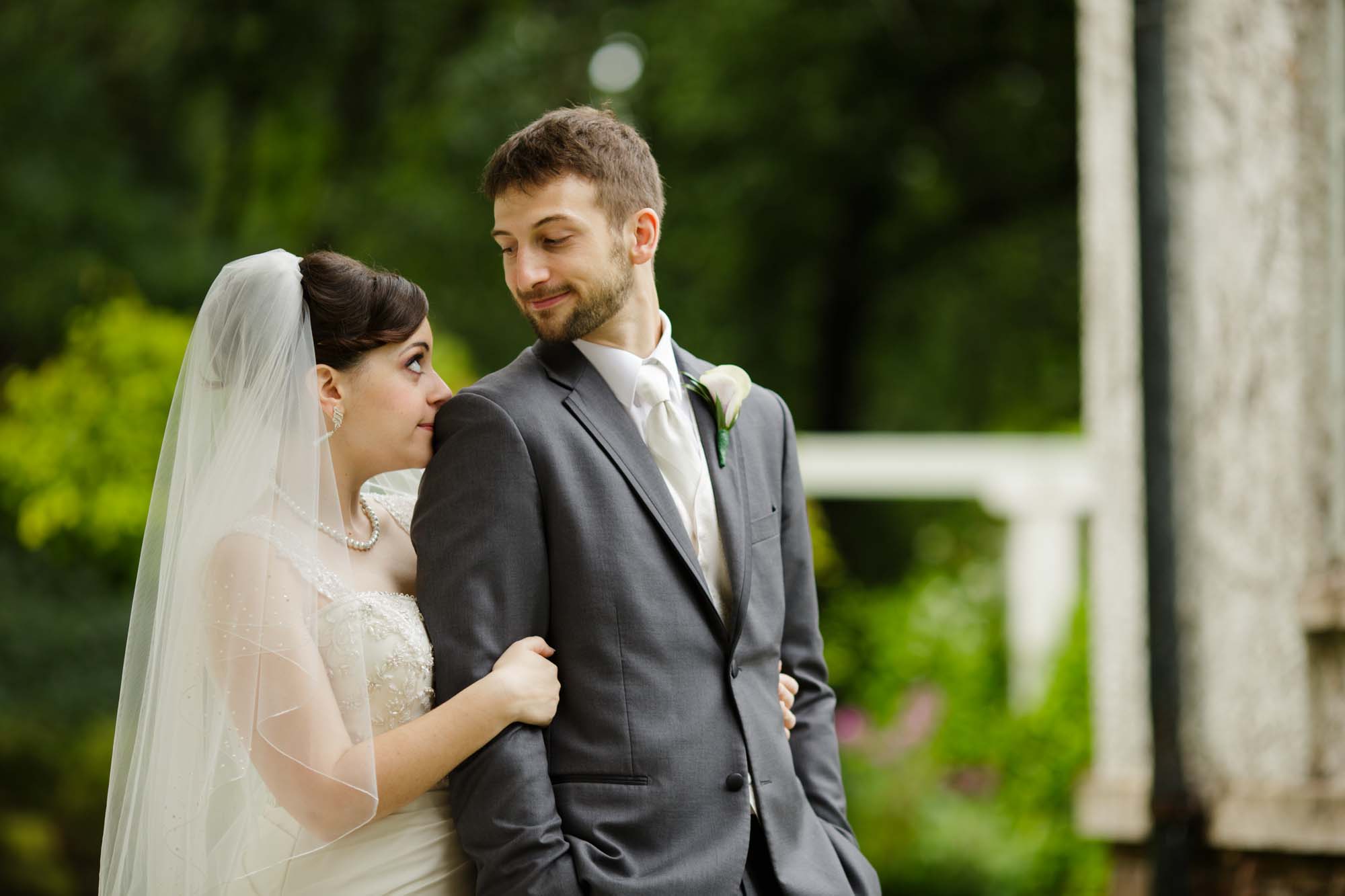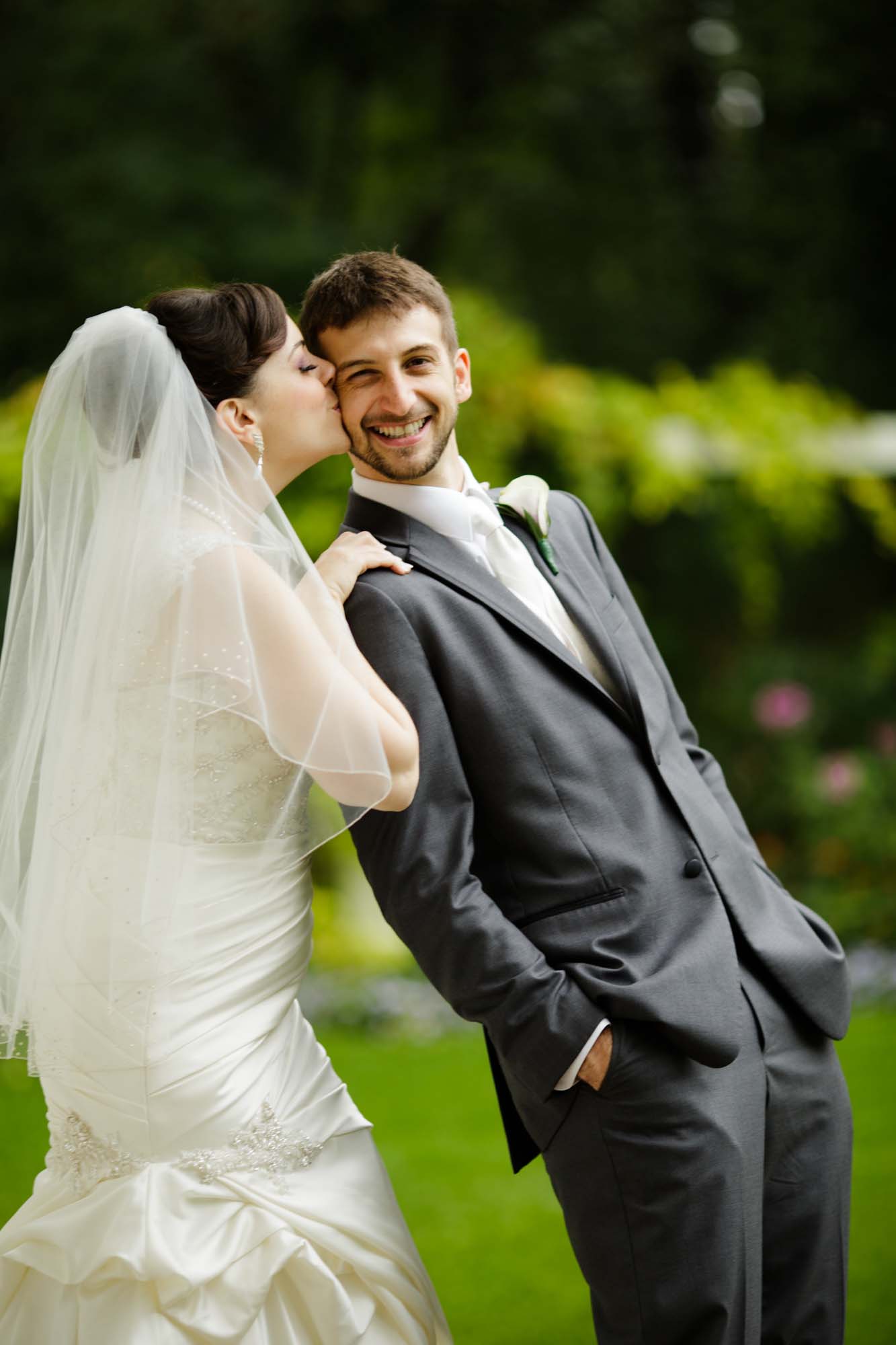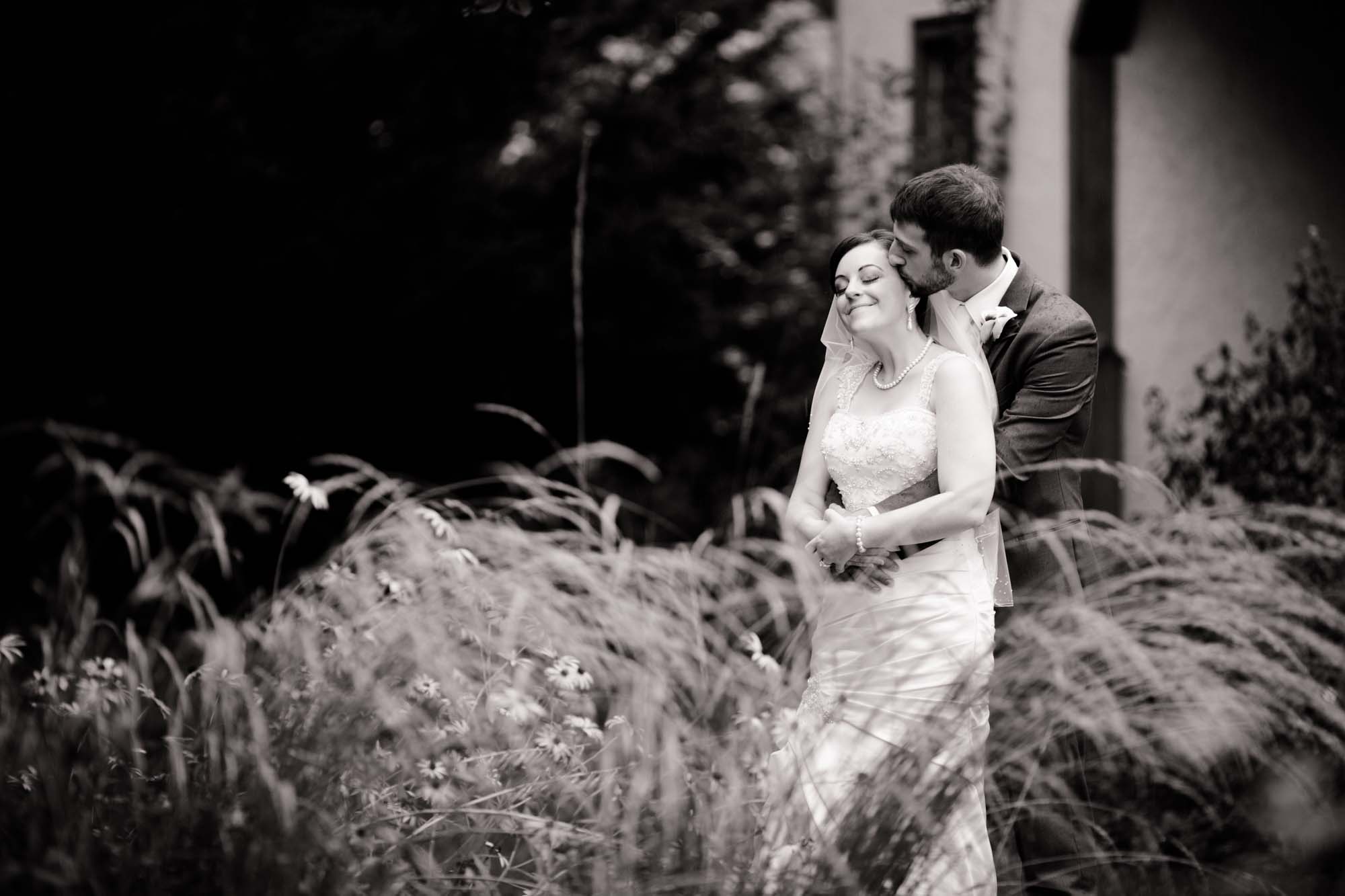 Then, everyone jumped back in the limo and rode to Renaisaance by the Creek in Mississauga, ON for the reception. The bridal party set up the receiving line with shots and gifts for the guests. Then, it was time for everyone to head inside for the grand entrance, five-course dinner and speeches. Each speaker painted a wonderful picture of this couple's incredible love story, and then Jen + Mat topped it all off with an amazing toast to family, friends and one another. It was beautiful!
The toasts ended, and then it was time to introduce the band. Okay. Pause for a moment. We must say that Black Belt Jones is AMAZING! Seriously, one of the best bands we've ever heard. And all three of them can saaaaaannnng!!! AMAZING! You can totally tell, just by the choice to invite this band to the party, that music is an important aspect of Jen + Mat's relationship. Black Belt Jones set the party off aptly with a funky cover of Earth, Wind & Fire's "September." It was off the chain!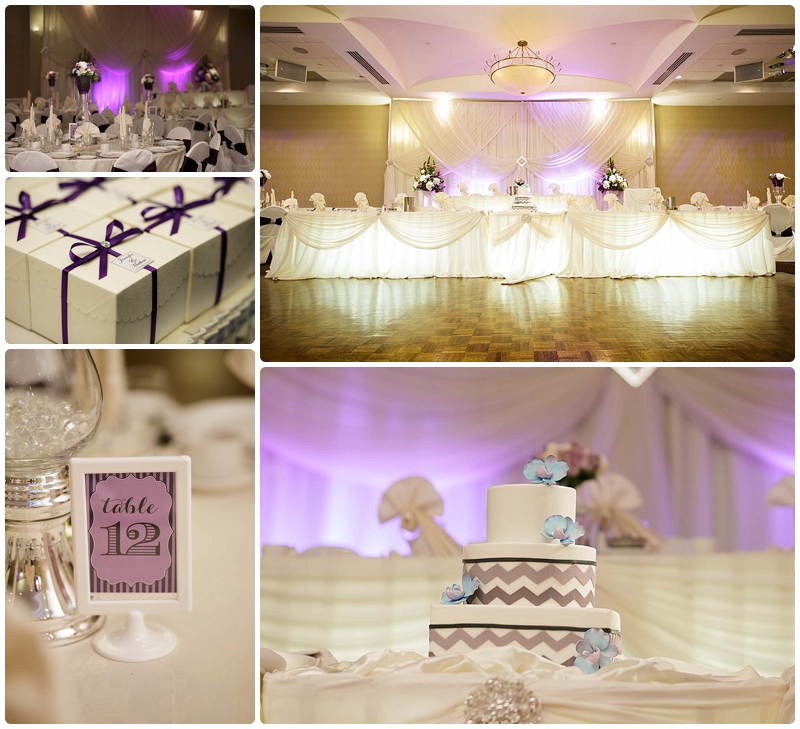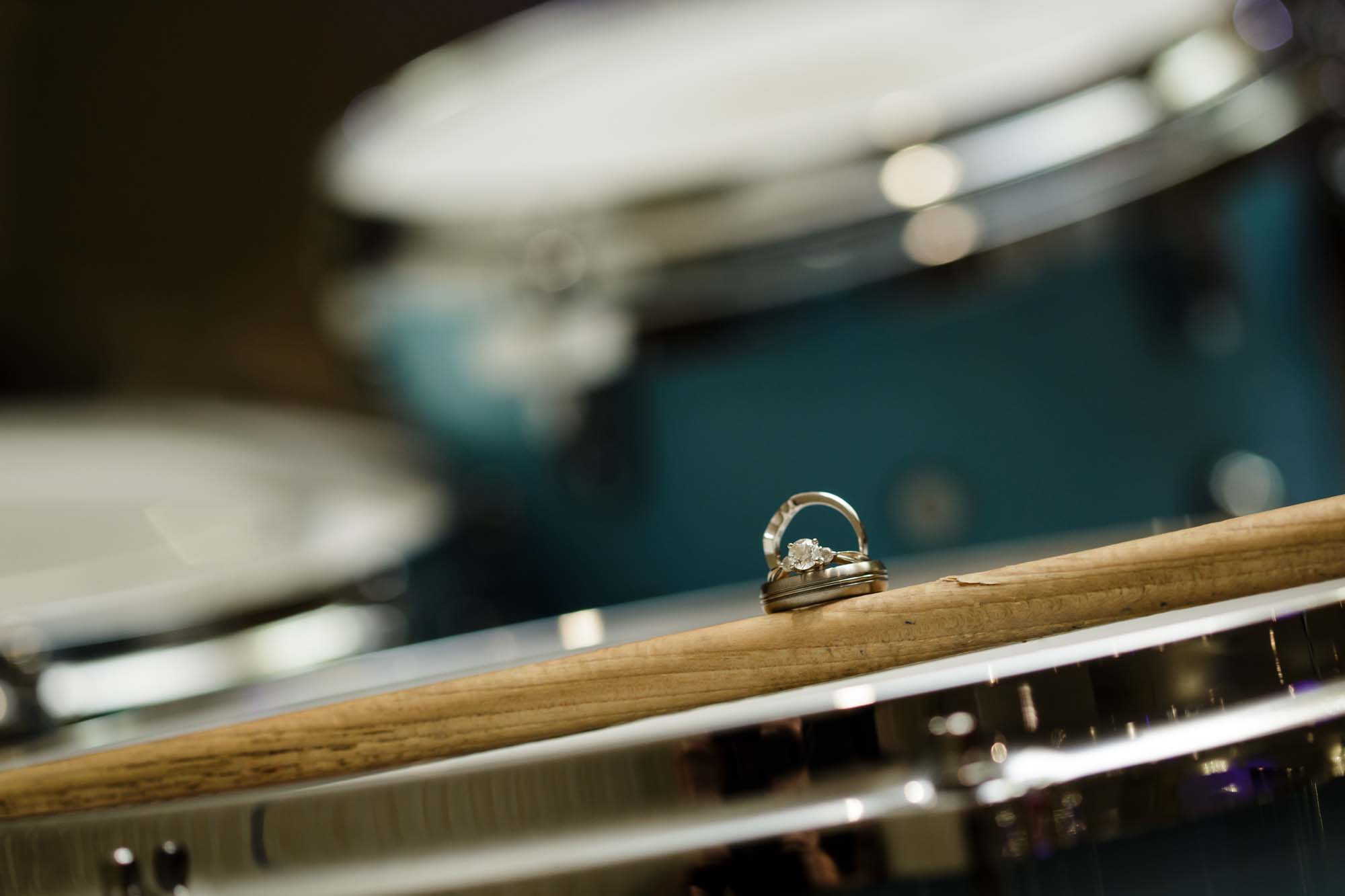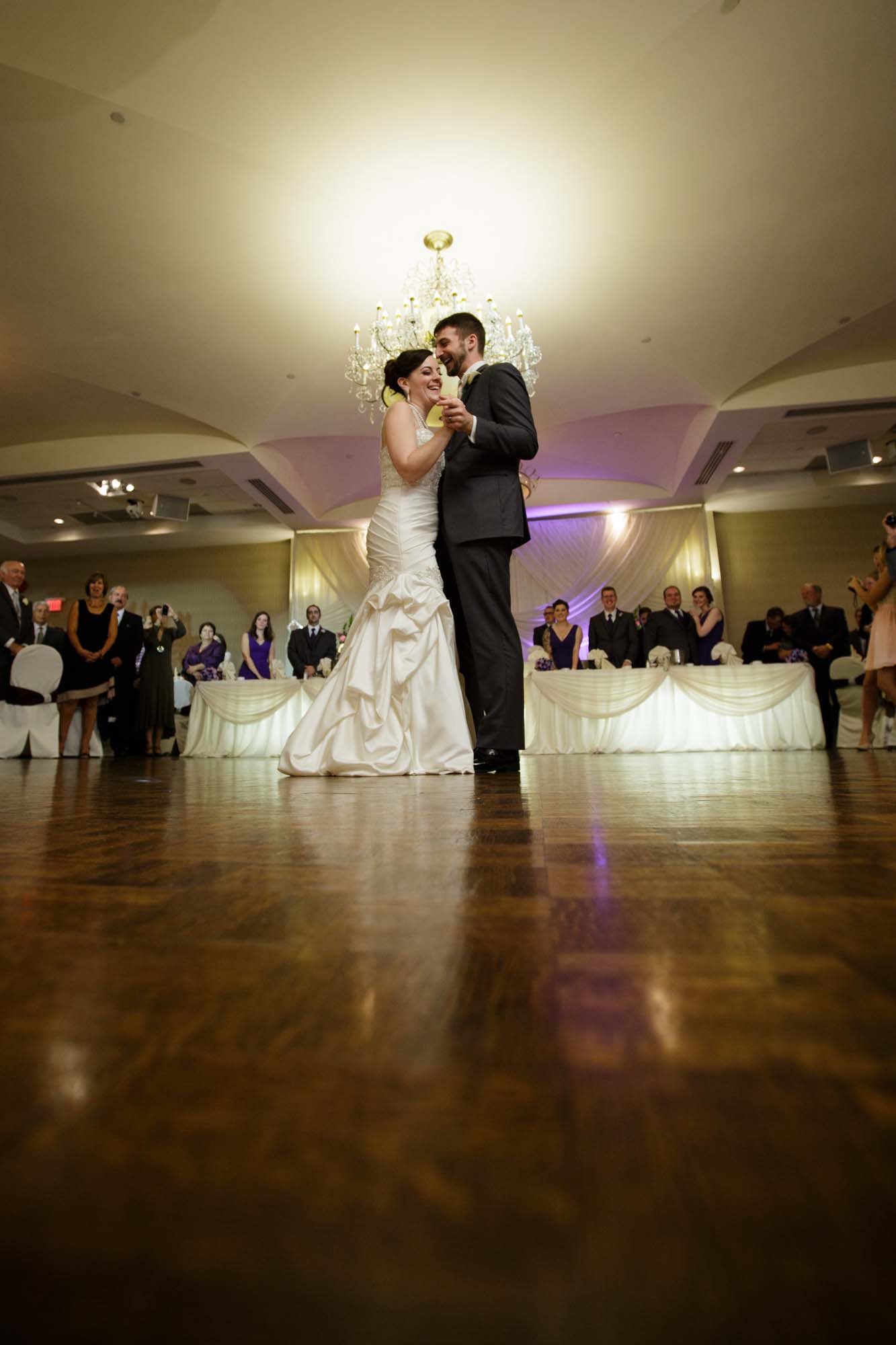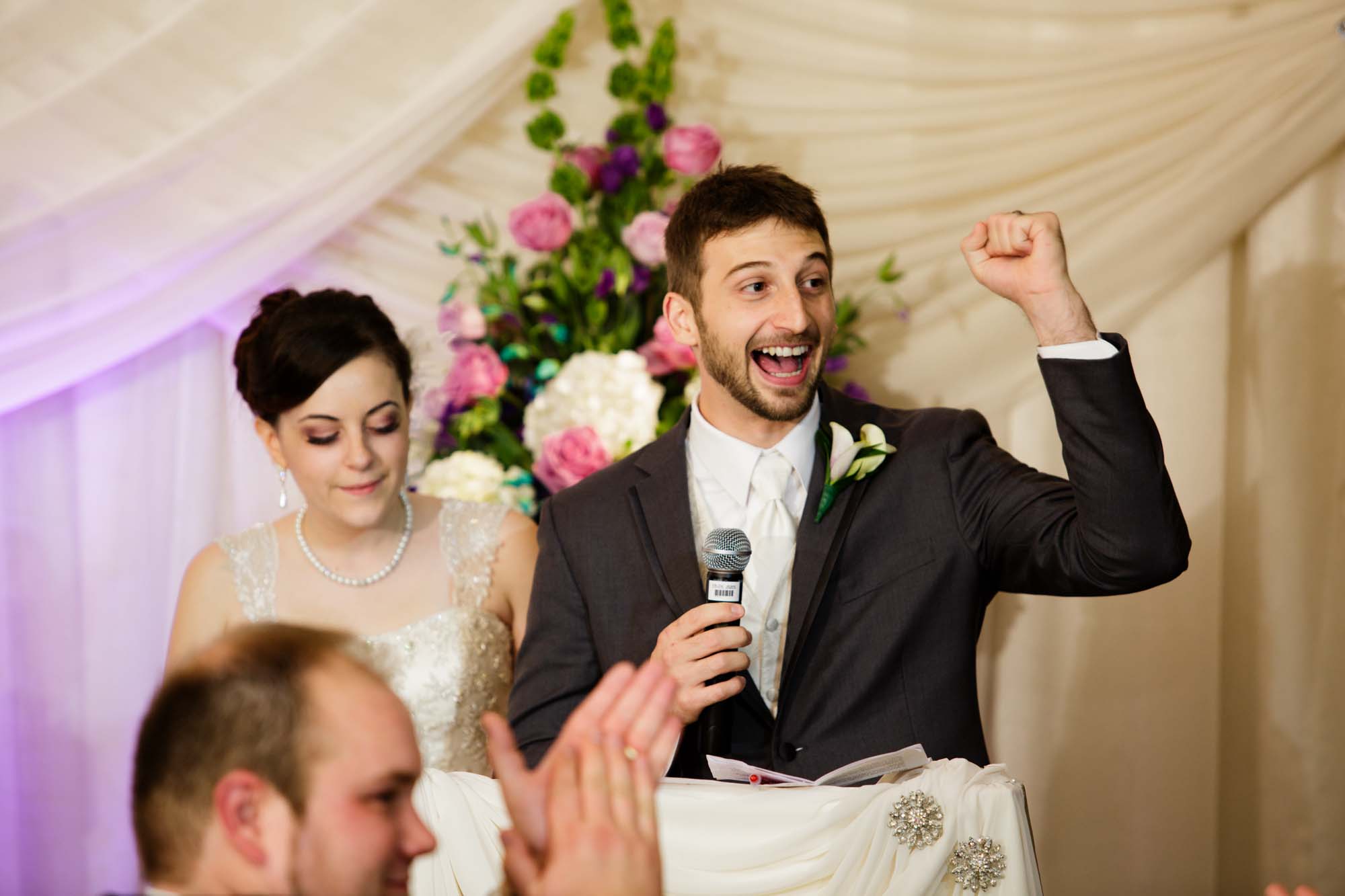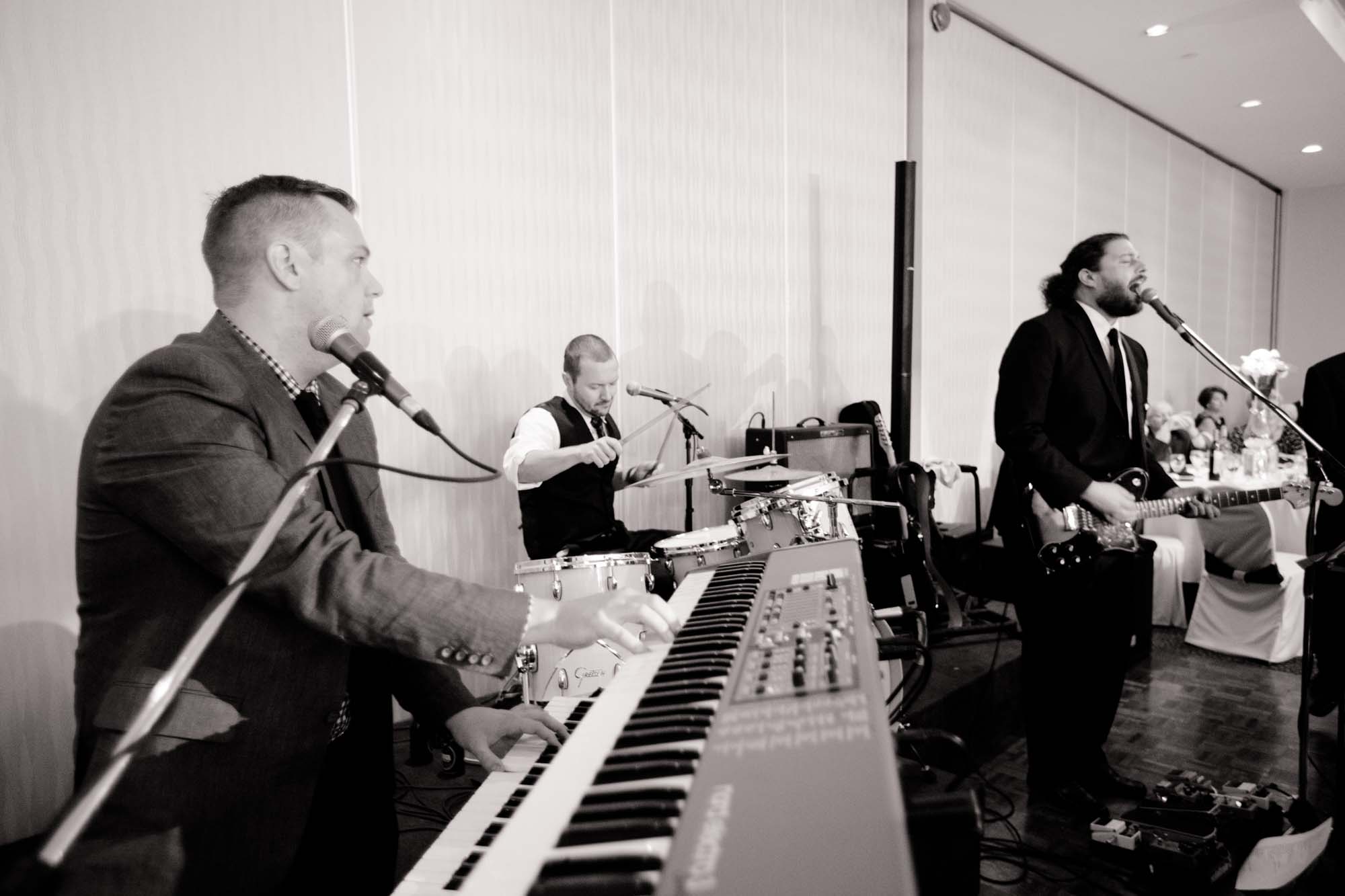 Everyone enjoyed the music and sang along to the familiar tunes. It was a great party! You know, some people say that rain on a wedding day is a sign of good fortune and blessing. Well, we already know that this couple is blessed with a beautiful family that loves them, fun friends to make them smile, and a beautiful love that will stand the test of time. Jen + Mat, thank you for allowing us to be a part of such an important day in your lives. We are honoured! We wish you both all the best!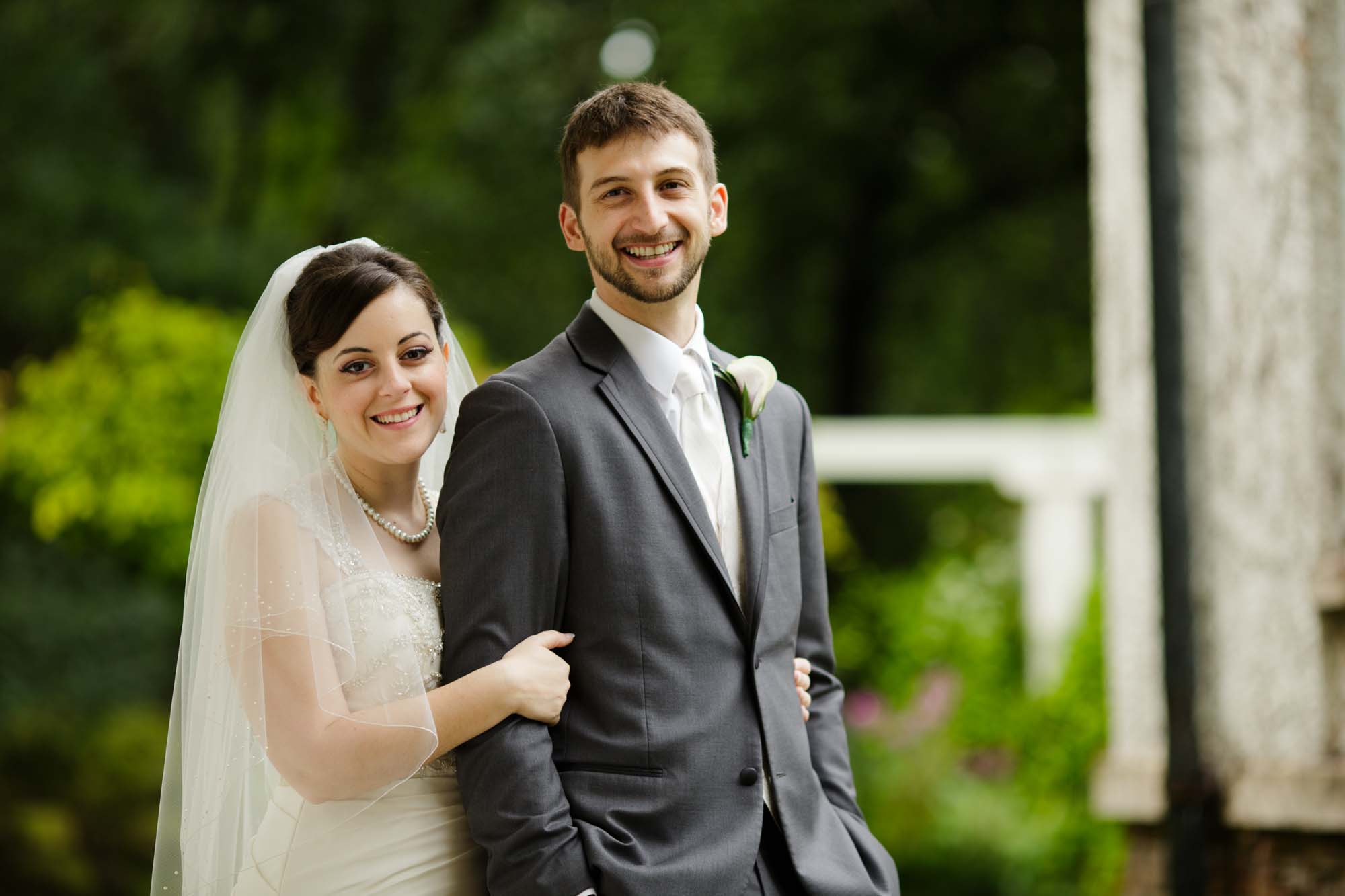 THE TEAM
Photography: Darlington Studios
Church: Erindale United Church
Venue: Renaissance by the Creek
Bouquets: Elegante Decor, Centerpieces: Uniquely Your Decor
Cake: Fabulous Cakes (in Woodbridge)
Decorator: Elegante Decor
Hair Stylist: Fortelli Salon & Spa
Make-Up Artist: Pretty in Pink
DJ: bbBlanc Entertainment
Band: Black Belt Jones
Gown: Casablanca Bridal
Music: "Just You" by Amy Stroup, licensed by The Music Bed