Patricia + John | Wedding Cinema at Windermere House in Muskoka
Patricia + John were married this past Saturday at the elegant Windermere House Resort on Lake Rosseau, Muskoka. This was our first time ever filming at this venue, and we must say that we were thoroughly impressed! The grounds, staff and food (it's Oliver & Bonacini, need we say more) were outstanding!
Patty + John live out of town so our conversations, prior to the big day, consisted of Skype chats. We were so excited when we finally got to meet them in person and give them big hugs!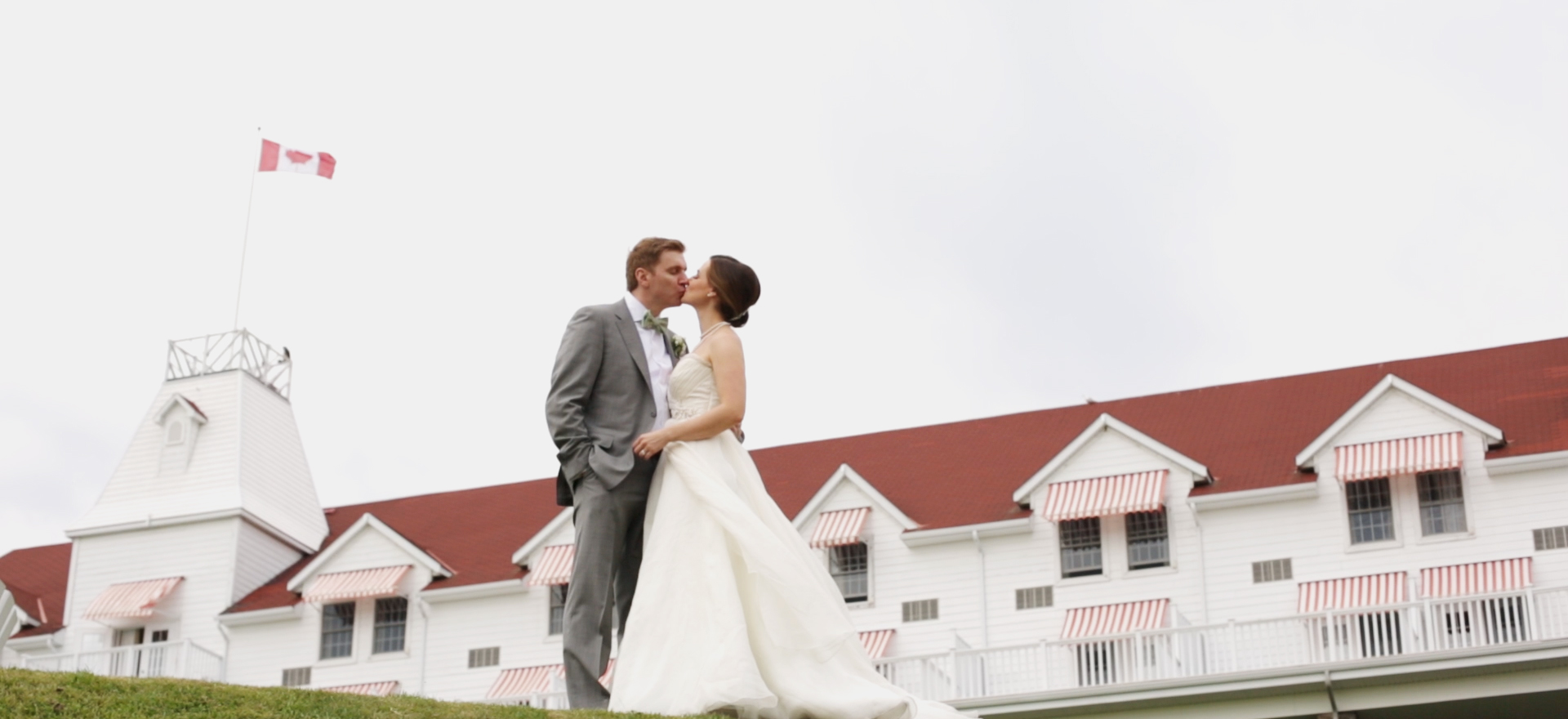 We arrived at Windermere House in the early afternoon. The place was abuzz with activity, as the team prepared for the lawn ceremony and evening's events. The bridesmaids helped by putting final touches on the decorations, while the artists of Justyna Mroz finished Patty's hair and make-up. Then, all the ladies donned their lovely dresses (love the soft, muted colour palette!) and headed downstairs.
The gentlemen were dressed and raring to go. They had a fun time getting photos done on the lawn, and by the dock, with the super nice and very talented Mike Prasad from MJP Photography. Check out the gorgeous photos of the day by clicking here – Windermere House Wedding.
Patty + John said their vows on the back lawn of the resort, overlooking Lake Rosseau. It was stunning! Then, it was time for cocktail hour and their photo session.
Throughout cocktail hour, we set up a video guest book on the lawn. In lieu of having a sign-in book for guests, Patty + John chose a video guest book, where friends and family could offer congratulatory wishes or words of advice on-camera. Everyone had a great time!
After the receiving line, the speeches (and delicious meal) began. Once dessert was cleared, Patty + John graced the dance floor for their first dance as husband and wife. Then, it was time to party!
The band, Parkside Drive, rocked the house alongside an incredible bongo drummer. The music was pumping, as the couple, and their guests, danced the night away! Thank you Patty + John for inviting us to film your beautiful wedding day! We wish you all the best!
THE TEAM
Cinematography: Darlington Studios
Photography: MJP Photography
Venue: Windermere House
Wedding Planner: Theresa Kerr of Kerr Events & Design
Florist: Seasons In The Country
Cake: CupCAKE
Decorator: Kerr Events and Design
Make-Up + Hair Stylist: Justyna Mroz Hair Artist
Live Band: Parkside Drive
Gown: Watters Bridal
Suit: Canali
Music: "I Can Feel Your Heartbeat" by A New Normal (featuring Jordan Frye), licensed with permission by The Music Bed