Jason + Christina | Wedding Cinema in Minett, ON
Jason + Christina are one of the loveliest couples we've ever met. Late last year, Jason contacted us to see if we were available to film their wedding on Lake Rosseau. Immediately, after we spoke with them on the phone, we liked them. They are both so kind and loving, we knew we would have an amazing time at their wedding. And that we did!
We arrived at The Rosseau A JW Marriott Resort Saturday afternoon to start the day. The bridal parties were getting ready in the two parental suites. Each suite had large, wrap-around balconies and stunning views of the lake. Both, Jason + Christina, read letters from the other that expressed their love for one another and excitement for the day. Everyone dressed, then headed off to the chapel to get married.
St. James the Great Catholic Church is a quaint, country church located in MacTier, ON, just a short drive from the resort. Christina's grandfather led the ceremony, along with the parish priest. Both, the priest and her grandfather, shared words of wisdom and hilarious anecdotes with the guests.
After the ceremony, everyone made their way back to the resort. The rain fell. It didn't look like the storm would ever end, but just as soon as the photo session began, the clouds dispersed and the rain ceased. It was great weather for creative shots on the dock.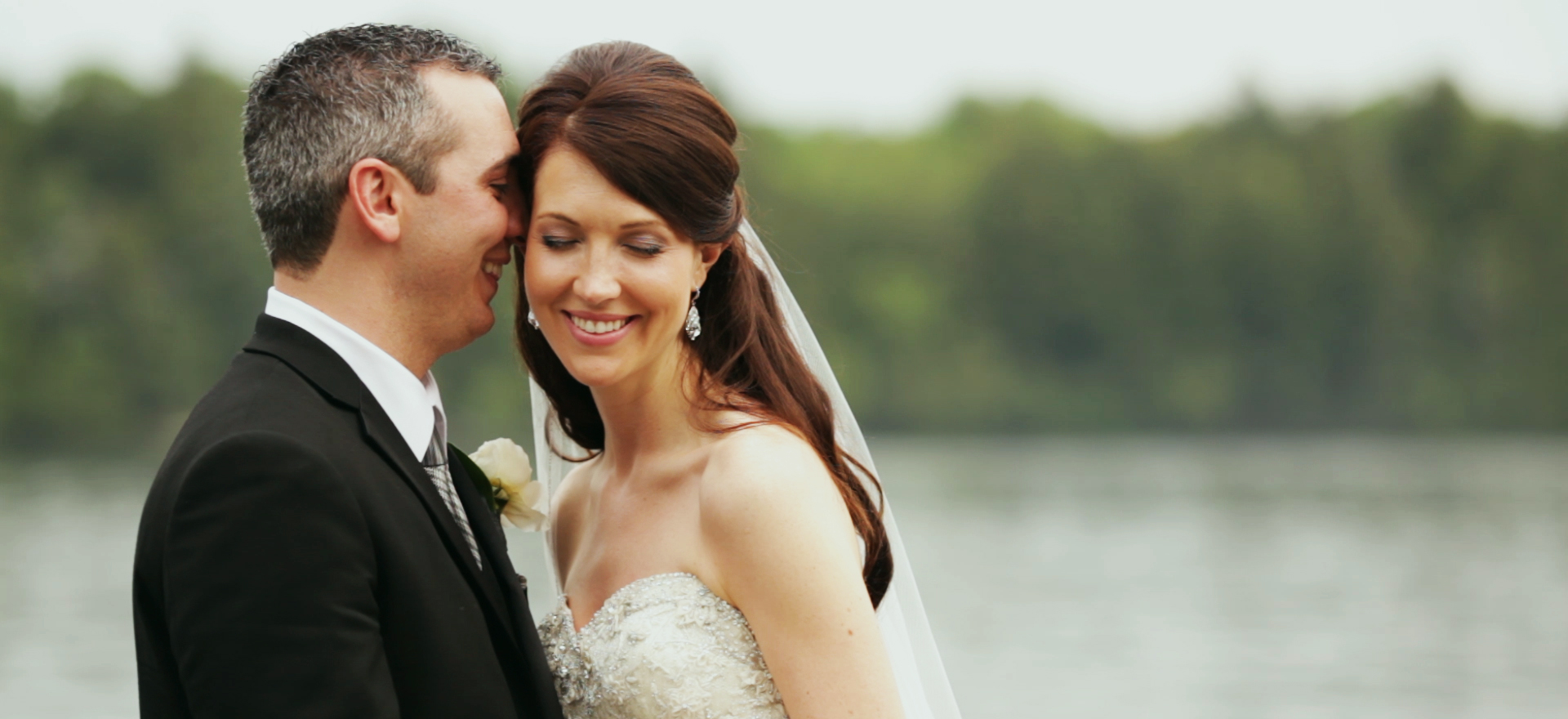 Then, it was time for cocktail hour. The guests enjoyed themselves with food, drink and great conversation, while they waited for dinner to commence.
What a lively crowd! The guests couldn't wait to dance. In fact, in between dinner courses, if Joel the DJ played an upbeat jam, the guests would jump out of their seats, one by one, onto the dance floor and get their groove on. We have never seen a party like this before! And we LOVED it!! Trinidad in the house!!! We loved the energy and excitement that was felt all throughout the room, as everyone celebrated the marriage of Jason + Christina.
After dinner, moving speeches were given to (and by) the bride and groom. Then, it was time to dance the night away! Congratulations Jason + Christina on a beautiful wedding day! Thank you for inviting us to your fun-filled celebration!

THE TEAM
Cinematography: Darlington Studios
Photography: The Shutterbug Gallery
Church: St. James the Great Catholic Church
Ceremony Musicians: The Classic String Quartet
Venue: The Rosseau A JW Marriott Resort
Florist + Decor: Sterling Kjargaard
Hair: Jenna & Shandra
Makeup: Rosseau Spa
Cake: A Little Sweet
DJ: Joel Ortiz
Gown: Lazaro
Suit: Ike Behar
Music: "Corner" by Allie Moss, licensed with permission by Songfreedom