A Birthday Design by Melanie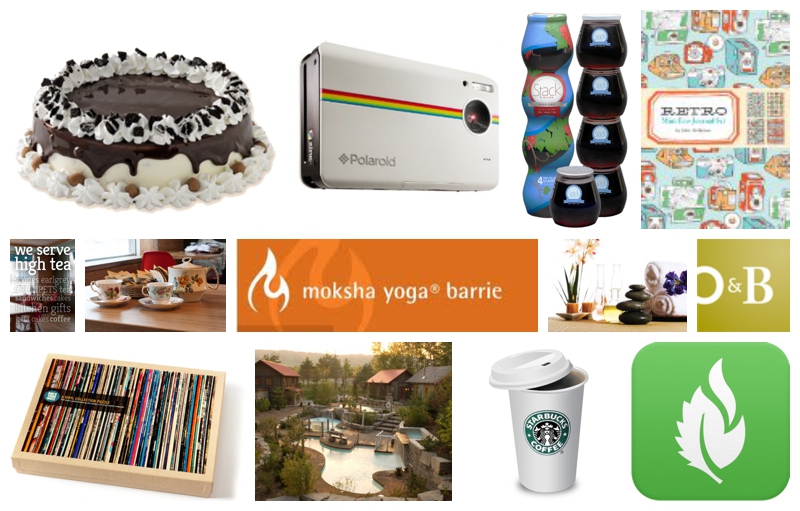 My birthday is in a few weeks!!! Every year, around the first day of Spring, Paul starts asking me what I'd like to do for my special day. And every year I am at a loss for words. However, this year, I dared to be different. I created a design board filled with relaxing experiences and birthday fun! After emailing it to Paul, I realized that I loved it so much, I wanted share it with all of our friends.
1. A Cookie Dough Drizzle Cake from Marble Slab. Um, yummy … Need I say more.
2. The Polaroid z2300 Instant Digital Camera. I love old Polaroids, but I always wished I could have the option of choosing what photo to print instead of being at the mercy of the camera. Now I get to choose. It's perfect! Plus it has a sticky back for posting.
3. Take it with you wine from Stack Wines. I saw this in my favourite magazine, Real Simple, and loved the idea of totable glasses of wine. They just look so darn cute!
4. Retro mini eco-journal notebooks, as seen in the latest issue of a wonderful magazine I was recently introduced to at our photography convention last month, Click. This set of 4 notebooks are decorated with images of plastic cameras, rotary phones, boomboxes and video games.
5. High tea at Barrie's very own tea shop English & Miller. I haven't dined there yet, but I can't wait to try their tea and scones. Fancy, huh?
6. Hot yoga at Moksha Yoga Barrie. If you've never been to a hot yoga class, you should check this South-end studio out. It's wonderful!
7. A relaxing massage.
8. A delicious Oliver & Bonacini Cafe Grill meal at Blue Mountain. Yes, please!
9. The Vinyl Collection 550-piece jigsaw puzzle, also featured in Real Simple magazine. I, recently, reconnected with my love of puzzles over our winter vacation, and what could be better than this nostalgic find?
10. A beautiful day of serenity and silence at Scandinave Spa Blue Mountain. Watch out for the quiet monitors! They will shush you!
11. A Salted, Caramel Mocha minus the salt (as the salt is seasonal) from Starbucks. If you register your Starbucks card online, you get a free coffee on your birthday! Bonus!
12. Faithlife, a study Bible app. This is a great way to really delve into the word of God and learn more about the scripture. I love it! And did I mention it's free!?!
Keep in mind, I am not planning to do everything on the list for my birthday. This could possibly end up being a week-long celebration for me because there's no way I could possibly fit everything I want to do on the list all in one day. I may not even get around to doing everything, but it's nice to dream … and design.