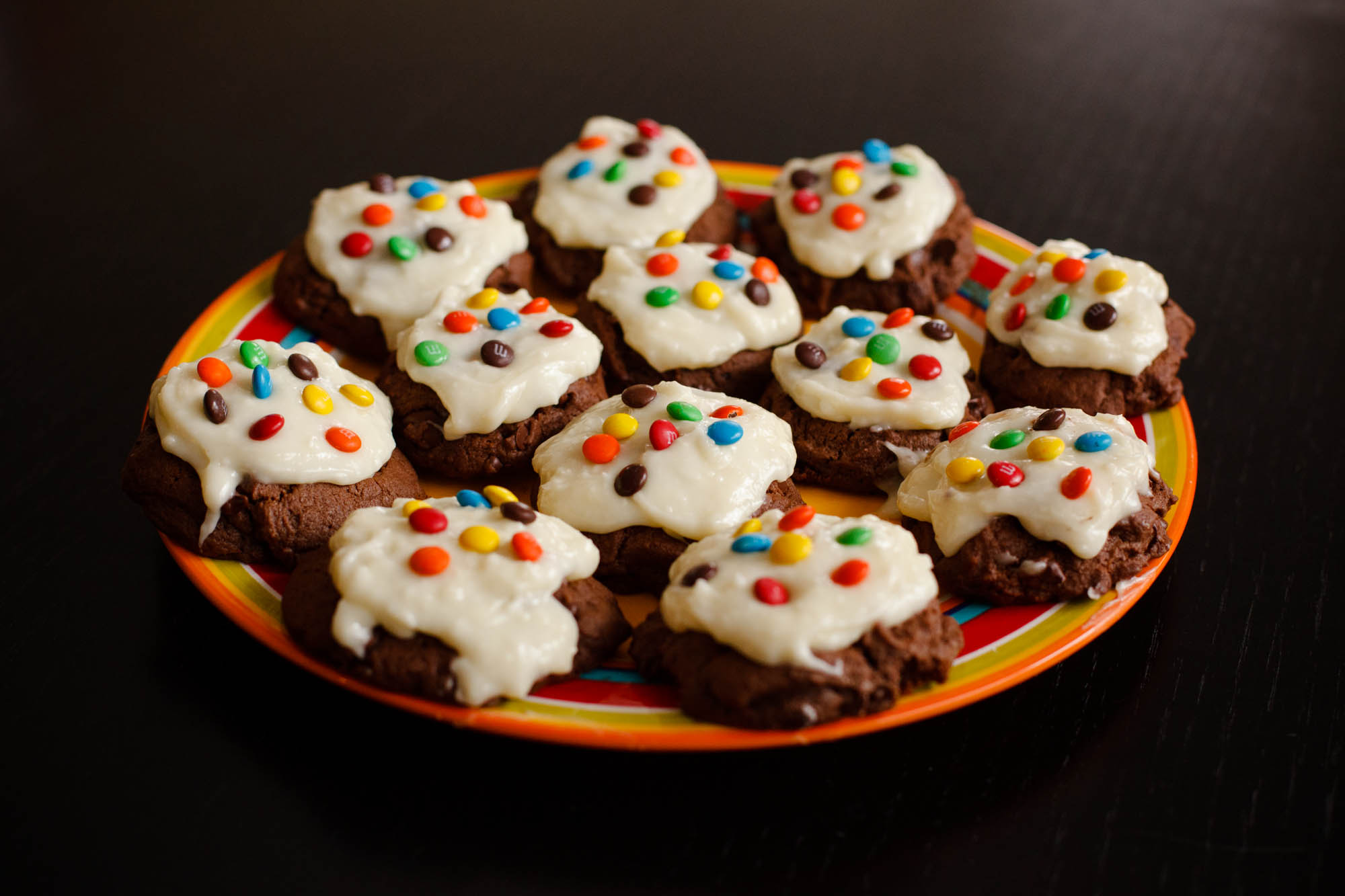 About three years ago, I found an amazing cookie recipe in a weekly flyer from Bulk Barn. I immediately went online and saved a PDF of the recipe for future use. Ever since then, around Valentine's Day, I bake these delicious chocolate cookies with homemade cream cheese frosting for my family. Well, last week, I was telling someone about how incredible these cookies taste, and wanted to send them a link to the recipe online, when lo and behold, I discovered the recipe is nowhere to be found!! The page had expired. Oh no! Now how do I pin it on Pinterest with no link?!?! Soooooo … I decided to post this recipe online for all those cookie lovers out there. You're welcome.
I have no idea who originated the recipe, but whoever you are, you are the best! Thank you, thank you, thank you for this sweet treat!
CHOCOLATE LOVER'S COOKIES
Yields 32 cookies
1/2 cup sugar
2 1/2 cups all purpose flour
1 cup butter, softened
1 cup packed brown sugar
2 eggs
1 tsp. salt
2 tsp. vanilla extract
3/4 cup baking cocoa
1 tsp. baking soda
1 cup semi-sweet chocolate chips
1/2 cup Callebaut bittersweet wafers, chopped into
small pieces
CREAM CHEESE FROSTING
4 oz. cream cheese, softened
3 cups icing sugar
1/2 cup white chocolate chips, melted
1/2 cup mini M&Ms or Smarties

Preheat oven to 375 degrees F. In a large bowl, cream butter and sugars. Beat in eggs and vanilla. Combine the flour, salt, baking soda, and cocoa in a separate bowl. Slowly add to the creamed mixture and mix well. Stir in chocolate chips.
Drop in mixture by teaspoonful 2 inches apart onto an ungreased baking sheet. Bake at 375 degrees for 8-10 minutes or until set. Cool for 2 minutes, then remove and place on cooling racks.
In a microwave, melt white chocolate chips for 1 minute and stir. Microwave another 10-20 seconds at intervals, stirring until smooth; cool.
For frosting, in a small bowl, beat cream cheese and icing sugar until smooth. Beat in melted chips. Smooth on the cookies and sprinkle with M&Ms, or topping of your choice. Enjoy with an ice cold milk (or soy milk) beverage!
Note: Leave a comment and let us know if you try the recipe! We're convinced you'll love it!